Adam Sandler And Jennifer Aniston Reunite For A 'Murder Mystery' At Netflix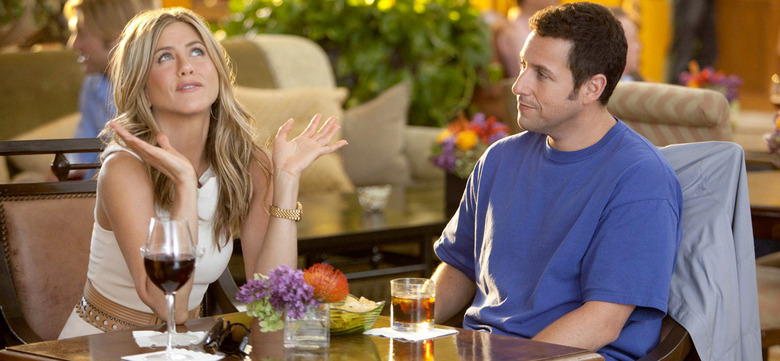 Adam Sandler and Jennifer Aniston previously spent some time together in the romantic comedy Just Go With It. Now the two are getting back together for a Netflix original that sounds a little more dangerous.
Netflix has announced production is underway on a new project called Murder Mystery. In what sounds like an update of Clue, the film follows Sandler and Aniston as a couple who go off on a European vacation but end up in the middle of a mysterious murder case on board a luxury yacht. But there's more.
Here's the official logline for Murder Mystery from Netflix's official press release:
When a NYC cop (Adam Sandler) finally takes his wife (Jennifer Aniston) on a long promised European trip, a chance meeting on the flight with a mysterious man (Luke Evans) gets them invited to an intimate family gathering on the Super Yacht of elderly billionaire Malcolm Quince. When Quince is murdered, they become the prime suspects in a modern day whodunit.
Sandler and Aniston aren't the only ones caught up in this dangerous situation though. The ensemble cast also features an array of diverse talent that includes Gemma Arterton (Their Finest), Luis Gerardo Mendez (Club de Cuervos), Shioli Kutsuna (Deadpool 2), David Walliams (Little Britain), Adeel Akhtar (The Big Sick), John Kani (Black Panther), Ólafur Darri Ólafsson (The Meg), Dany Boon (R.A.I.D. Special Unit), and Academy Award nominee Terence Stamp (Miss Peregrine's Home for Peculiar Children).
Under normal circumstances, I would say that this sounds like yet another project that will disappoint those hoping that Adam Sandler still has some semblance of good comedy in him. However, the talent on the page and behind the camera does offer a glimmer of hope.
Directing Murdery Mystery will be Kyle Newacheck, best known for creating the Comedy Central series Workaholics. He recently directed the Netflix original comedy Game Over, Man, which reteamed him with Workaholics trio  Adam DeVine, Anders Holm and Blake Anderson. However, the Die Hard-esque action comedy wasn't quite as successful or funny as their television endeavor. But still, having new blood behind the camera for Adam Sandler could be refreshing.
Meanwhile, James Vanderbilt is writing the script, which could go either way. While Vanderbilt has scripted duds like The Amazing Spider-Man 2 and Independence Day: Resurgence, he's also scripted the entertaining action flicks The Rundown and The Losers, not to mention David Fincher's Zodiac. So maybe he can bring comedy and murder mystery together for something satisfying.
This feels like Netflix's attempt to follow up Game Night with a similar formula. The ensemble cast is what gives us flairs of Clue (which is being remade with Ryan Reynolds), but we'll see if the movie can deliver when Murder Mystery hits Netflix sometime in 2019.