'Jurassic World: Fallen Kingdom' Box Office Lands The Fourth Biggest Weekend Of The Year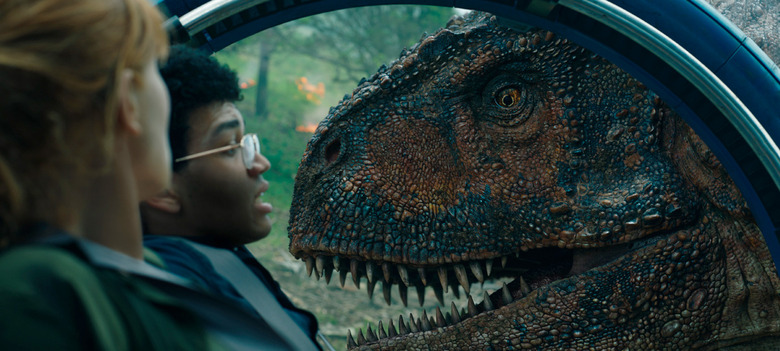 Jurassic World raked in a huge $208 million in the summer of 2015, landing one of the best opening weekends of all time (the only non-Disney distributed title in the top 10). That means Jurassic World: Fallen Kingdom had a lot to live up to. But the sequel had a satisfying debut with the fourth biggest opening weekend of the year, and Universal's second biggest debut ever, coming in behind only Jurassic World.
Get the full rundown of the Jurassic World Fallen Kingdom box office below.
Forbes has Jurassic World: Fallen Kingdom raking in an estimated $150 million this weekend, which is above the higher end of projections. That's almost a third less than the first Jurassic World, but most sequels in big franchises usually have a drop of that size. In fact, that's exactly what happened when The Lost World: Jurassic Park followed the original Jurassic Park in 1997. So this isn't a situation where the box office had a steep decline in box office, like Teenage Mutant Ninja Turtles: Out of the Shadows.Jurassic World: Fallen Kingdom is the fourth biggest opening of the year, coming in behind only Avengers: Infinity War, Black Panther, and Incredibles 2, again all Disney films. The movie is the second biggest opening of the entire franchise. Even when you adjust for inflation, Fallen Kingdom pulled in more than the opening weekend's of The Lost World and the original Jurassic Park ($104 million).
Since Fallen Kingdom cost $170 million to produce, the movie is already a success. On top of the big opening weekend in the United States, the movie has already been playing internationally for a couple weeks. So far the movie has pulled in over $561 million overseas, making a global total of over $711 million. That makes it likely to be another movie that hits $1 billion globally.
The question is how the movie will perform as the weeks go on. Even if the legs aren't that strong, the movie will still make somewhere between $345 million on the lower end and $413 million on the more optimistic side. That's nothing to scoff at, and it's pretty much a guarantee that we'll get the bonkers third film in the franchise promised by the end of Fallen Kingdom. But it'll be interesting to see if audience turn out as strongly for the third film in the revived franchise.