Shia LaBeouf And David Ayer Reunite For 'The Tax Collector'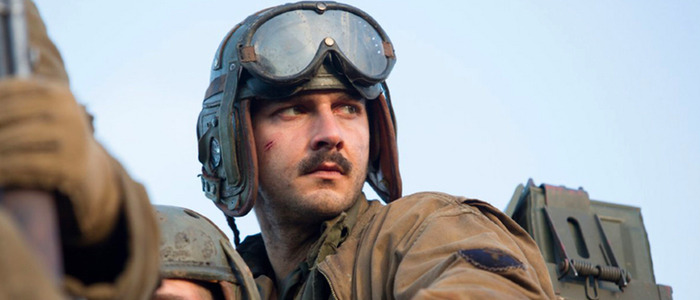 Shia LaBeouf and David Ayer, who previously worked together on the World War II tank drama Fury, will re-team for a film called The Tax Collector. What's it about? Who the hell knows! Taxes, probably.
Break out your W-9s and 1040s – The Tax Collector is coming! Perhaps Batman's most notorious villain, The Tax Collector is getting his own spin-off film! Oh, wait, my mistake. The Tax Collector is not a Batman villain at all. Instead, it's the name of a new gritty L.A. crime thriller from Bright and Suicide Squad director David Ayer. Deadline reports Ayer will reunite with Fury actor Shia LaBeouf for the thriller, which "harkens back to Ayer's earlier gritty crime thrillers Training Day (which he wrote and Antoine Fuqua directed) and End of Watch, which Ayer directed."
And that's really all we know. There are no plot details here. We know LaBeouf will co-star along with Bobby Soto, and that Ayer is at the helm. So it's hard to get overly excited about all of this without any specific details. I'm a bit mixed on Ayer – I thought Training Day was fantastic, but most of the other films he's been associated with – especially Suicide Squad and Sabotage – have been downright terrible. That said, Fury showed some promise, so perhaps the secret to making a David Ayer movie work is to add Shia LaBeouf into the mix.
Personal problems aside, I actually do think LaBeouf is a good actor when given the right material. I know a lot of people loathe him because of his appearance in Indiana Jones and the Kingdom of the Crystal Skull, but he more often than not turns in a good performance. Heck, I'll go so far as to say that I thought he was pretty good in Crystal Skull as well, but I know I'm in the minority there.
Word is that The Tax Collector is Ayer's next project, which means Bright 2, another Ayer film in the works, will have to wait a little longer. Ayer helmed the first Bright – a gritty crime film set in a world full of magic – for Netflix. Critics were not happy with Bright, but Netflix was pleased as punch. So much so that they greenlit a sequel before Bright even dropped onto the streaming service. Bright 2 will bring back Will Smith and Joel Edgerton, and will likely feature more of Ayer's signature grittiness. For a while, Ayer was attached to a standalone Harley Quinn/Gotham City Sirens movie spun-off from Suicide Squad. However, that's no longer the case, as DC and Warner Bros. have since hired Cathy Yan to helm the Harley-centric film.