'Incredicoaster' Video Shows Riders Trying To Keep Up With Jack-Jack's Powers At Pixar Pier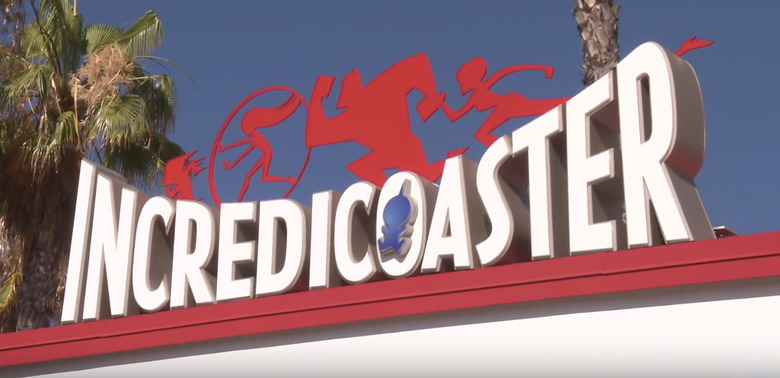 Disneyland has reimagined a whole area of their California Adventure Park and turned it into the Pixar Pier, a whimsical waterfront boardwalk setting where the characters and settings of Pixar Animation come to life. Pixar Pier opens this weekend, and it includes a complete makeover of the roller coaster formerly known as California Screamin', which has now been dubbed The Incredicoaster. And we have a look at what the ride experience is like now.
The Incredicoaster Video
For those of you who don't have the time or money to head off to Disneyland anytime soon, this will give you a good idea of what The Incredicoaster is like. As you can see, the entire ride has been overhauled to be tied into The Incredibles, complete with a video for riders waiting in line that has the family of superheroes reacting to the honor of having a roller coaster named after them.
Meanwhile, the area where park visitors wait in line has been inspired by The Incredibles' new house loaned to them by Winston Deavor in Incredibles 2. It has the same pointed roof and aesthetics, but clearly it's a little smaller than that big, glamorous house. Within the structure, there's a large diorama featuring a statue of Edna Mode casually standing around while Jack-Jack teleports around the house.
Finally, the roller coaster itself features The Incredibles scattered throughout the ride, complete with audio from the film's voice actors, as you and the family try to keep up with Jack-Jack's powers. Neon lights act as the baby's laser eyes in one tunnel, while another features Elastigirl stretching to grab Jack-Jack as he turns gooey (one of his new powers from the sequel we previously highlighted). A different tunnel has Mr. Incredible busting through it in an attempt to catch Jack-Jack, while yet another has the baby engulfing the tunnel in flames before Violet tries to contain it with one of her shields.
Looking at it from the outside, it's a simple upgrade to the roller coaster that really only adds visual elements to the ride rather than changing it in a huge way. But it's also a cool way to integrate the ride into Pixar Pier and celebrate The Incredibles. Plus, as someone who loves the low key roller coaster at Disneyland, it looks like a refreshing facelift.
This look at The Incredicoaster comes from a sneak preview of the area, but Pixar Pier opens this weekend for the rest of theme park-going public. We'll leave you with this behind-the-scenes video from film composer Michael Giacchino, who also provided the score for the revamped roller coaster: