'Reprisal' Trailer: Oh, Good! Another Bruce Willis Movie To Forget About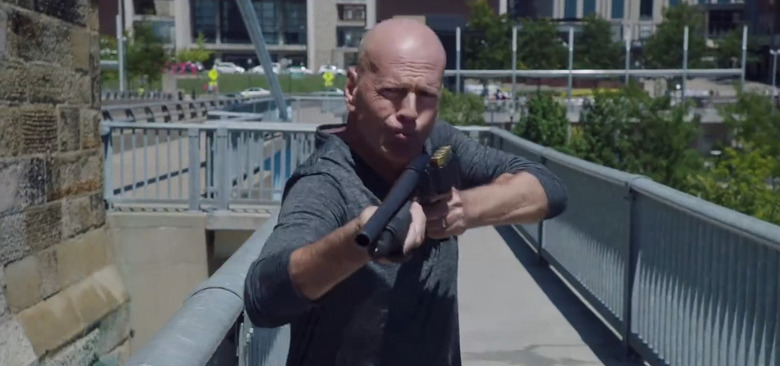 Have you heard of Acts of Violence, First Kill, Marauders, Extraction, Vice or The Prince? They're all Bruce Willis action thrillers that you've likely forgotten about or never even heard of, and they're all movies that have come out within the last four years. That just goes to show you how often Bruce Willis is churning out forgettable fodder for action-hungry audiences who will watch anything while eating a Little Caesar's pizza. Now we can add one more of those movies to the list.
Reprisal actually features Frank Grillo in the lead as a bank manager who has a little bit of PTSD from a robbery at his bank that resulted in the death of a co-worker. And who ends up helping him figure out who is behind a string of bank robberies in the area? That's right, it's Detective Bruce Willis, and he's got a shotgun and stuff, so look out.
Watch the Reprisal Trailer
Normally, we're not so dismissive of movies when we've only seen a trailer, but this is a cookie cutter bank robbery thriller with Bruce Willis playing the same character he's played dozens of times before. It's clear from his scenes in the trailer that Willis is phoning this one in. Plus, this is one of those movies that Lionsgate is releasing in limited theaters and VOD at the same time, so that doesn't really bode well for the film's quality.
Also starring in the film is DC's Legends of Tomorrow star Johnathon Schaech as the villainous bank robber who starts threatening Frank Grillo's family and Bruce Willis' life. But don't be fooled by the appearance of an FBI agent who looks like Robbie Amell – that's actually soap opera star Colin Egglesfield, another indication that this movie probably won't be worth the ticket or VOD price.
It should come as no surprise that the movie hails from director Brian A. Miller, who was behind two of the aforementioned forgotten Bruce Willis movies, The Prince and Vice. At least he's found some steady work in the tough business of making movies.
Jacob (Frank Grillo), a bank manager haunted by a violent heist that took the life of a coworker, teams up with his ex-cop neighbor, James (Bruce Willis), to bring down the assailant. While the two men work together to figure out the thief's next move, Gabriel (Johnathon Schaech), the highly-trained criminal, is one step ahead. When Gabriel kidnaps Jacob's wife (Olivia Culpo) and daughter, Jacob barrels down a path of bloodshed that initiates an explosive counterattack and brings all three men to the breaking point.
Reprisal hits theaters and VOD on August 31, 2018.