'The Exorcist' Star Ben Daniels Joins 'The Crown' Season 3 Cast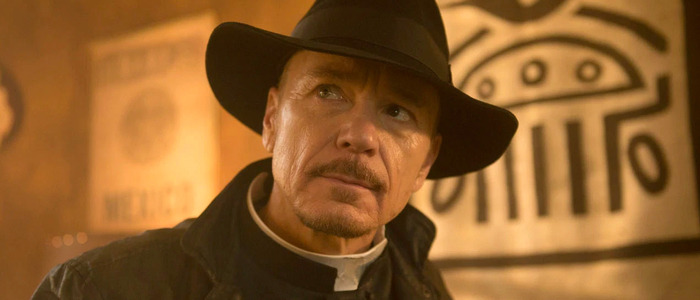 The Crown season 3 continues to fill out its cast as it jumps forward in time. The Exorcist actor Ben Daniels is the latest addition, taking on the role of Lord Snowdon. Matthew Goode played the character as a younger man in The Crown season 2.
Netflix's lavish, regal show The Crown is going through some major changes for season 3. The series covers the reign of Queen Elizabeth II, from her earliest days onward. Season 1 and 2 covered the beginning of Elizabeth's monarchy, but each season is meant to represent approximately ten years in the life of Elizabeth and her family.
That means the show has already covered around twenty years of time. Rather than use make-up to show the advancing age of the characters, creator Peter Morgan and company instead decided to replace the cast with older actors as the years drag on. As a result, Netflix has been slowly replenishing the cast with new, older actors. Ben Daniels, who appeared on Fox's now-cancelled The Exorcist, as well as  Jesus Christ Superstar Live in Concert!, and Rogue One: A Star Wars Story, is the latest addition (via TV Line). Daniels steps into the role of Antony Armstrong-Jones, 1st Earl of Snowdon, husband of Elizabeth's sister Margaret. Snowdon was introduced on the show in season 2, where he was played (quite well) by Matthew Goode.
Daniels joins a new cast that includes Olivia Colman, taking over the role of Elizabeth from original actress Claire Foy; The Terror's Tobias Menzies, playing Prince Philip, previously played by Matt Smith; and Helena Bonham Carter, stepping into Vanessa Kirby's shoes as Princess Margaret.
According to THR, The Crown season 3 will "the Wilson era," the 1964-1970 and 1974-1976 terms of Prime Minister Howard Wilson. Camilla Parker Bowles, the current wife of Prince Charles, will be introduced as a character this season, as will Charles' first wife, the late Princess Diana. "You start meeting Camilla Parker Bowles in season three," producer Suzanne Mackie said. "We have to be honest, season three and four are being mapped out and the closer the history comes — I now can say, 'God, I know exactly what I was feeling when that happened, I remember that and I remember this.' That's so exciting!"
The Crown is one of Netflix's best shows, and while the new cast being assembled is stellar, I will miss the original players we've gotten to know for two seasons. I'm also curious to see if they'll appear in flashbacks. John Lithgow's Winston Churchill died in between seasons 1 and 2, but he still appeared in one season 2 episode via flashback.
There's no return date set yet for The Crown season 3, but I imagine we won't see it until 2019.