Yep, They're Making Another 'Teenage Mutant Ninja Turtles' Movie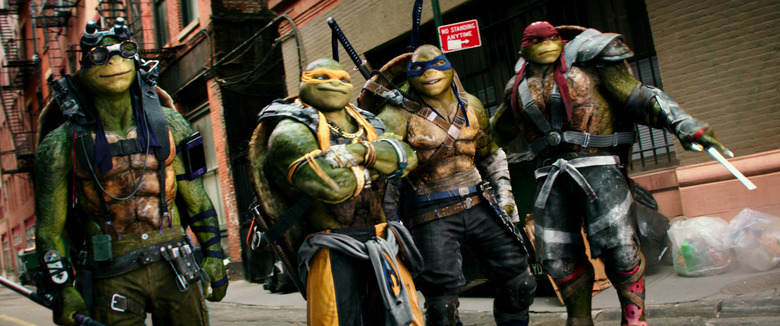 If at first you don't succeed, try again. If you don't succeed that time...try again and hope the third time's the charm? That seems to be Paramount's goal with the Teenage Mutant Ninja Turtles franchise, as the heroes in the half-shell are once again getting the big screen treatment, even though their two previous adventures sputtered at the box office.
The Hollywood Reporter has the story. Paramount has hired screenwriter Andrew Dodge (whose credits include the Jason Bateman comedy Bad Words) to pen the latest adventure of Raphael, Leonardo, Donatello, and Michelangelo, the sewer-dwelling mutant reptiles with a taste for pizza and a penchant for kicking butt.
But while Dodge is new the series, a few names behind-the-scenes are not. The film will be developed by Platinum Dunes and producers Andrew Form, Brad Fuller, and Michael Bay, the same team behind 2014's Teenage Mutant Ninja Turtles and 2016's Teenage Mutant Ninja Turtles: Out of the Shadows. While the first film was a modest success, the second saw immediate diminishing returns at the box office (despite being the superior film). And yet, Platinum Dunes just delivered A Quiet Place for Paramount, which turned into a surprise juggernaut with critics and audiences. It's easy to see why everyone wants to collaborate again.
Right now, it's unclear if this movie will be a continuation of the previous two films or a complete reboot. I'd guess the latter.
And yet...maybe those previous two movies were a warning sign? THR reports that Paramount chairman Jim Gianopulos has made a priority of focusing on the studio's stable of franchises and the Turtles are an instantly recognizable brand with a strong following. But is that following passionate enough to reach the heights of Marvel and Star Wars and Harry Potter and the other major names riding high in Hollywood? The box office receipts for Out of the Shadows suggest no and the same producers steering the ship is cause to wonder if everyone really plans to give these characters and their world the extensive overhaul they so desperately need for 2018.
Let's face it: the Turtles are cool. It's possible to imagine them being relevant and beloved again. That 1990 live-action movie, while clunky, showcases a strange charm and appeal (that was lost in the sequels, of course). It's up to Dodge and the folks at Platinum Dunes to give this quartet a reason to headline a new movie only a few years after their last big screen outing was such a big disappointment.
Maybe the template here is Guardians of the Galaxy: bizarre characters save the day with cheeky comedy while wearing their emotions on their somewhat monstrous sleeves. But we shall see.