'IT: Chapter 2' Officially Begins Production With A Pun From James McAvoy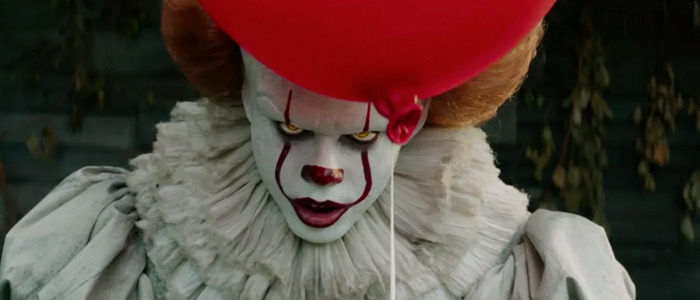 Ever since IT ended last fall with the official title card of IT: Chapter One, fans have been anxious for the sequel to get off the ground. Warner Bros. Pictures and New Line Cinema fast-tracked the sequel, and it will hit theaters in September of 2019. Now, fans have even more to be excited about because production has officially begun on the movie.
James McAvoy, who is playing the adult version of Bill Denbrough (played by Jaeden Lieberher in the first chapter), has arrived on the set of IT: Chapter 2 and revealed production has begun on the sequel with a little Derry, Maine pun that will make fans grin sheepishly.
That's a little cheese wedge from The Laughing Cow that McAvoy has found in his trailer, and if you don't get the pun right away, the actor spells it out in a hashtag that says #DerryorDairy. Maybe there will be some product placement in the movie where Pennywise the Dancing Clown turns into Pennywise the Laughing Cow. That would be quite the terrifying prospect with some potentially delicious results.
We've yet to get any word of the other cast members in IT: Chapter 2 being on set, but the ensemble cast is entirely squared away. Joining James McAvoy in the horror sequel will be Jessica Chastain as Bev,  Bill Hader as Richie, Jay Ryan as Ben, Andy Bean as Stanley, Isaiah Mustafa as Mike, and James Ransone as Eddie. Plus, Bill Skarsgard will be returning as the creepy Pennywise.
One question we have is whether Jaeden Lieberher, Jeremy Ray Taylor, Sophia Lillis, Finn Wolfhard, Wyatt Oleff, Chosen Jacobs and Jack Dylan Grazer will return in some capacity, perhaps for the beginning of the movie before we flash forward to present day, when Pennywise returns to Derry after the Losers' Club has all grown up.
Director Andy Muschietti is back behind the camera for the sequel with a script once again written by Gary Dauberman. Hopefully, they can recapture the same horror magic they created with the first chapter of Stephen King's classic story. If they can pull this off, there's no doubt that this will be the definitive adaptation of IT. However, we'll be waiting some time to see if that's the case, since Pennywise the Dancing Clown doesn't return to theaters until September 6, 2019.