'Rick And Morty' Won't Have Long Breaks Between Seasons Anymore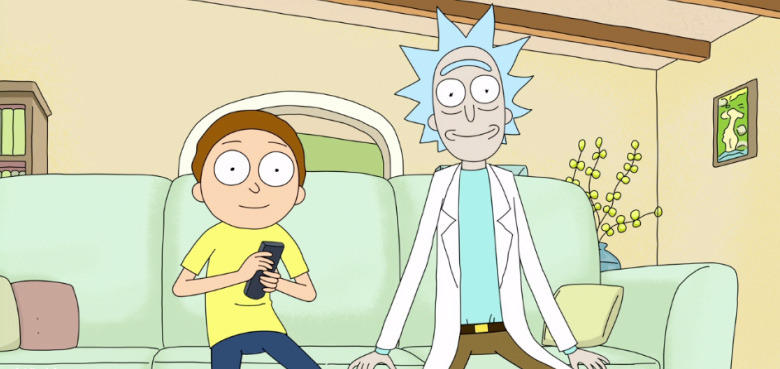 After a long negotiation process, Rick and Morty was not only renewed for a fourth season at Adult Swim, but got a huge order for a total of 70 episodes. While it still hasn't been determined how those episodes will be spread out over the coming years, this still means fans won't have to wait a long time between seasons anymore.
Speaking with Polygon recently, Rick and Morty co-creator Justin Roiland said that the new deal makes it so that there won't be a delay of new episodes:
"For the first time ever, we're locked in, we know what the future is, we have job security. [Dan] Harmon is in great spirits, we have a great writer's room. We want the episodes to stay good, but we do also want to try to turn them around a little quicker now that we have this big order, I think it gives us the ability to be faster. We're not going to do these long breaks, these chasms in between seasons anymore. We're going to schedule vacation time and just keep the machine going. It's going to be really cool."
This adds another layer of good news for not just Justin Roiland and Dan Harmon, but for fans. Not too long ago a profile on the series co-creators recently indicated that the deal they were holding out for would allow them to focus only on Rick and Morty without having to take several other jobs in order to make ends meet outside of the Adult Swim series. That's why Adult Swim ordered so many episodes in one big chunk like this.
As of last week, the writers had all gotten back together, which was a fantastic but strange experience. Roiland says, "It's exciting, it's a little surreal. Even just being in the writers room for half the day every day this week, the ideas are ... it's going to be great."
But for now, there's no indication as to when the fourth season of Rick and Morty will debut. More than likely it won't be until 2019, but it's just a matter of when. Summer seems like a good time, but since this is animation we're talking about, they might need to wait until the fall. The question is how all these episodes will be spread out across several seasons and what the normal hiatus time will be between them. Stay tuned for more details.