'Game Of Thrones' Actor Alfie Allen Joins 'Jojo Rabbit' Cast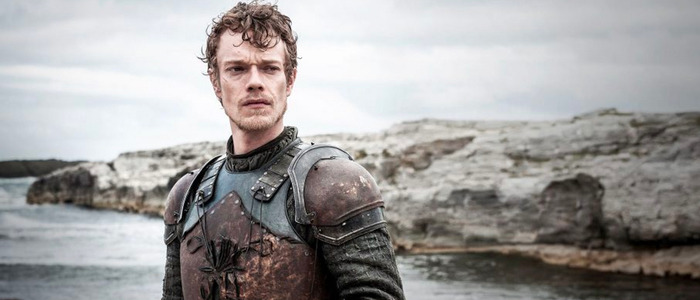 The cast of Taika Waititi's comedy Jojo Rabbit has a new addition. Game of Thrones actor Alfie Allen has joined the film, a World War II satire about a young boy and his imaginary friend...who just happens to be Hitler.
Taika Waititi's Jojo Rabbit only just started shooting, but it already seems like a must-see movie. The film stars Waititi, Scarlett Johansson, Rebel Wilson and Sam Rockwell, and Deadline reports Alfie Allen has joined the cast as well. Allen will play a character named Finkel, who is second in command to Rockwell's character, Nazi Captain Klenzendorf. Allen is one of those actors very good at playing characters you despise – he was one of the creeps who killed John Wick's dog! – so he'll no doubt do an exemplary job playing a Nazi.
Jojo Rabbit is a satire set against the backdrop of World War II, following "an awkward young German boy (Roman Griffin) raised by a single mother (Scarlett Johansson), and whose only ally is his imaginary friend Hitler (Waititi). His naïve patriotism is tested when he meets a young girl (Thomasin McKenzie) who upends his world views, forcing him to face his biggest fears."
This sounds strange and fascinating, and I can't wait to see it. Waititi's Jojo Rabbit script previously appeared on the 2012 Black List – the annual survey highlighting the hottest un-produced screenplays of the year, based on the votes of hundreds of executives. Since then, Waititi's career has skyrocketed, thanks to his acclaimed indie film Hunt for the Wilderpeople and his big Marvel blockbuster Thor: Ragnarok.
Waititi and the Jojo Rabbit Twitter account have both been sending out photos from the production of the film.
First still from the set of WW2 satire, #JojoRabbit: Jojo (played by Roman Griffin Davis) having dinner with his imaginary friend Adolf (played by writer/director @TaikaWaititi), and his mother, Rosie (#ScarlettJohansson)

📷: Kimberley French pic.twitter.com/KbxqaPWyyN

— Jojo Rabbit (@jojorabbitmovie) June 11, 2018
Can't believe I get to work with Scarlett Witch from the scavengers movies! Here I am teaching her how to use Captain Merika's mini biscuit shield to defend herself from a mini nazi attack. #jojorabbit #FiniteWar @jojorabbitmovie pic.twitter.com/bD16VWe1PK

— Taika Waititi (@TaikaWaititi) June 11, 2018
It's Friday so I will bless you mortals once again.

And yes, I'm wearing a onsie and yes, I cropped out my schnitzel infused belly.
🐖🐷🐽 #fanclub #tubbytumtum #jojorabbit pic.twitter.com/J44G2wJJ1r

— Taika Waititi (@TaikaWaititi) June 8, 2018
"I'm stoked to begin shooting my anti-war satire," Waititi said when Jojo Rabbit began production at the end of last month. "We've assembled an incredible cast and I couldn't be more excited to finally ridicule Nazis and their beliefs. This film is going to piss off a lot of racists and that makes me very happy."
Jojo Rabbit isn't the only project Allen is lining up. The actor will also star in How To Build A Girl, a film about an "opinionated and overweight girl desperate to leave her hometown, who remakes herself as the badass music critic Dolly Wilde. She quickly gains notoriety as an enfant terrible, but is this girl she built really who she wants to be?" Allen also appears in the upcoming The Predator, hitting theaters September 14, 2018. No release date has been set yet for Jojo Rabbit.