'Incredibles 2' Smashes Box Office Records With The Biggest Opening Ever For Animated Movies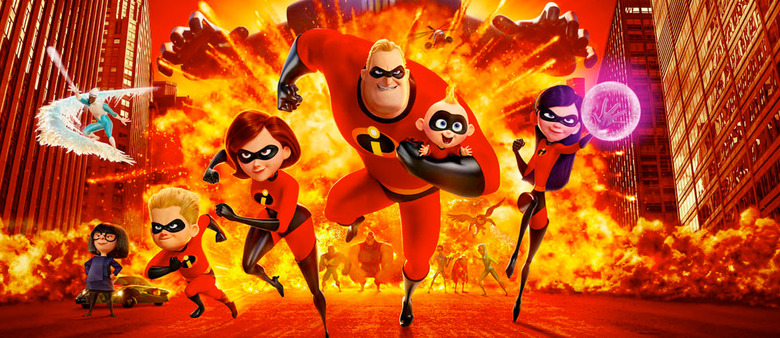 We already knew people were excited to see The Incredibles back in action in an animated sequel that fans have been waiting to see for 14 years. But we didn't know fans were this excited.
Incredibles 2 has exceeded even the highest box office projections leading up to the film's release by scoring an estimated $180.2 million opening weekend. That's enough to make it the highest opening for any animated movie ever. Even if you adjust other animated movies for inflation, Incredibles 2 still comes out on top with the biggest opening weekend in animation history. But that's not the only box office record it broke this weekend.
According to Forbes, the Incredibles 2 box office haul this weekend also gave Disney and Pixar Animation the biggest opening for any movie not rated PG-13, edging out Disney's own remake of Beauty and the Beast last year, which pulled in $174 million. It's also enough to give Incredibles 2 the eighth highest opening weekend ever, just barely surpassing Captain America: Civil War's opening of $179.1 million.
In its opening weekend, Incredibles 2 box office has raked in 68% of the entire box office haul of The Incredibles, which made $262 million at the box office in 2004 after an opening weekend of $70 million. It's also 78% of what Justice League made in its entire box office run in the United States.
Pixar has always had huge opening weekends for their movies, but Incredibles 2 clearly hit a sweet spot of superheroes (which clearly aren't giving audiences fatigue) and family friendly action adventure to make Disney all the money this weekend. It takes a spot among Disney's nine total movies that are on the list of the biggest opening weekends of all-time. The only non-Disney title is Jurassic World, so there's a chance one of them might get bumped off when Jurassic World: Fallen Kingdom opens next week.
Globally, Incredibles 2 pulled in $51.5 million, but that was only from 26% of the additional markets it will be opening in. So while it has a global total of $231.5 million for now, it's going to get much bigger as the summer continues.
If the Incredibles 2 box office has good legs (which could be difficult in a crowded summer), it has the potential to become the most successful animated movie in box office history. Even the lowest projections when compared to the legs of other Pixar movies have it passing Finding Dory's total haul of $486 million. On the ticket side of the equation, Incredibles 2 might sell more than everything except Shrek 2 and The Lion King when all is said and done.
Disney certainly has been knocking it out of the park this year, but there's a whole summer of movies left. So we'll have to wait and see where the other blockbusters land at the end of the season.