Could The Abandoned 'Star Wars Detours' Animated Series Finally Be Getting Released?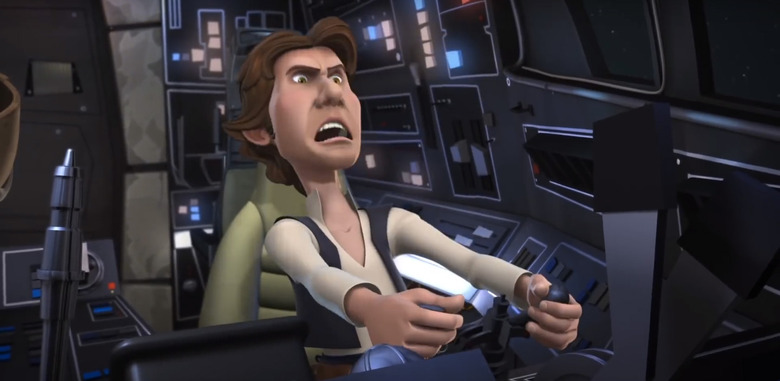 Do you remember Star Wars Detours? First put into development in 2009 and officially announced by Lucasfilm in 2010, the project was an animated comedy series featuring the characters and settings of the Star Wars universe. Unlike the more serious sci-fi adventure stories being told elsewhere, Star Wars Detours was told through a goofy, comedic lens by Robot Chicken creators Seth Green and Matthew Senreich. So why have we never seen it?
After Disney bought Lucasfilm in 2012, plenty of projects that were in the works ended up being shelved, many indefinitely. Star Wars Detours was one of them. Despite having nearly 40 episodes completed and ready to air, Disney and Lucasfilm postponed the series and has kept it on a shelf ever since. However, some trademark filings might indicate that a Star Wars Detours release might be in our future. Emphasis on the "might."
If you've never heard of Star Wars Detours, this is the project we're talking about:
The Star Wars Leaks Reddit noticed that Lucasfilm filed five trademarks related to Star Wars Detours:
Education and entertainment services
Toys, games and playthings; gymnastic and sporting articles (except clothing); hand-held units for playing electronic games for use with or without an external display screen or monitor; Christmas stockings; Christmas tree ornaments and decorations; snow globes
Clothing, footwear and headwear
Paper and paper articles; cardboard and cardboard articles; printed matter; publications; books; photographs; portraits; paintings; stationery; office and school supplies
Apparatus for recording, transmission or reproduction of sound or images; audio books; audio recordings; audio and visual recordings; video game software; computer programs and software; consumer electronics and accessories therefore; eyeglasses and sunglasses and accessories therefore; binoculars; decorative magnets; graduated rulers; microphones
This might seem to indicate that Disney and Lucasfilm are planning a Star Wars Detours release. Otherwise, why would you renew these trademarks if you're not going to use them? Well, more than likely this is just a major corporation playing it safe by renewing trademarks for a project that they have sitting on a shelf, just in case they ever actually want to release it.
The reason we think that this trademark filing doesn't actually mean a Star Wars Detours release is on the horizon is because of how trademarks work. After the initial trademark filing, the first renewal must be done in five years. Since Star Wars Detours was in development in 2009, that would have been when the first trademark filing took place. That would explain why Lucasfilm filed the exact same trademarks above in August of 2014.
Furthermore, the second renewal for a trademark comes four years after the first renewal, or nine years after the initial filing. This year marks four years since that first renewal in August of 2014 and nine years since the initial trademark filing. So we think this is just Disney and Lucasfilm conducting business as usual, and our own sources corroborate this presumption by saying that they haven't heard anything about the series getting released. But let's play devil's advocate for the hell of it.
Will Star Wars Detours Ever Get Released?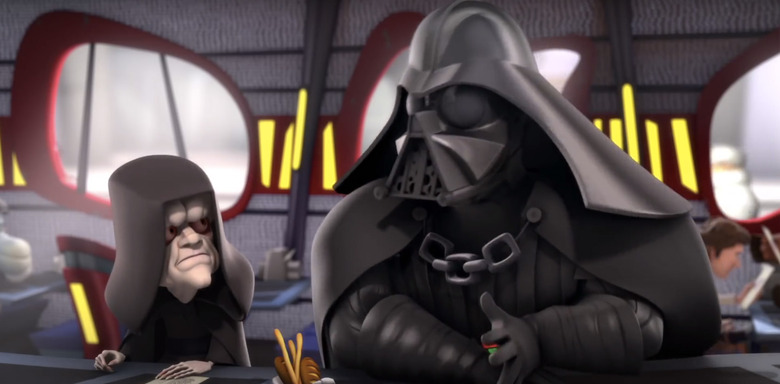 Even though it seems like a longshot for Lucasfilm to release a Star Wars series that seems to run counter to everything they're trying to do with the universe right now, let's not forget that Disney has a new streaming service on the horizon. They don't have a lot of Star Wars material that is explicitly geared towards younger kids for that streaming service. And if you watch the trailer above, this is clearly meant to make kids laugh.
Plus, at this point, maybe Disney and Lucasfilm are a little more comfortable broadening their horizons and playing with Star Wars in a way that fans might not expect. Of course, this looks like something that the more hardcore Star Wars fans would hate. But the older fans aren't going to keep Star Wars going strong as long as the younger fans. And this could serve as a good entry way for young kids to become familiar with these characters before diving into the more mature stories of the galaxy far, far away.