New Mitch Hedberg Stand-Up Material May Get Released Sometime Soon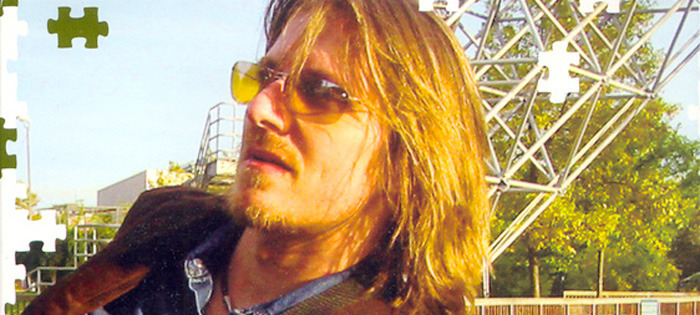 Stand-up comedian Mitch Hedberg was one of those talents who left us all too soon. Unfortunately, a dangerous relationship with cocaine and heroin resulted in a drug overdose that took his life in March of 2005. Fans of stand-up comedy often lament that he isn't around to bring his unique stage presence and joke delivery to the world today, but soon they might get some new material that will bring Mitch Hedberg's signature comedy back into the spotlight.
Mitch Hedberg's widow Lynn Shawcroft has been sitting on a treasure trove of new material in various forms. For years, she has found it hard to pour over this material, but now she's decided "to become a better widow" and is working with a Los Angeles production company to digitize new material in the form of notebooks, hotel note pads, scribbled napkins, cassette tapes, and even 16mm footage, all featuring never before seen or heard material from Mitch Hedberg. That just sounds awesome.
First of all, if you're not familiar with Mitch Hedberg, here are a couple sets from his career:
Lynn Shawcroft wrote a guest column at The Hollywood Reporter where she begins by saying, "Being a good widow is a hard job. I haven't been great about dealing with my husband's legacy. I've let it crush me instead of lift me up. But I think that's about to change. It's finally time to share." She opens up about how in the wake of Hedberg's death, she hoarded everything that had ties to the comedian. While that included questionable items such as receipts and even gum wrappers, it also included the new material we're talking about.
Shawcroft previously released some of Hedberg's notebook pages to GQ back in 2013. But she has so much more that she's been sitting on:
"Mitch was constantly jotting ideas onto paper. I have boxes and boxes of his notebooks, envelopes stuffed with hotel pads and scribbled-on napkins. I even found an airplane barf bag covered with notes. When he wasn't writing, he was talking into a microcassette recorder, so I also have boxes of microtapes of him practicing and perfecting his material — material that's never been heard. And then there's the footage. Mitch and I shot four of his shows on 16mm. That's enough for a brand-new concert film. And there's other film Mitch shot himself, with his voiceover. Enough for a documentary. A documentary that he could narrate himself!
I kept all the film and tapes and notes in three big iron safes in a cabin we had in the mountains. But about eight months ago, I took it all out of the safes and brought it back to L.A. I found an office in a production company and I've been digitizing everything ever since."
The question is, how will this new material be released? That's something that's still being worked out. As Shawcroft writes, "What I'm going to do with that incredible comedy legacy is something I'm still thinking about. I've been approached by directors who ask me to hand over everything. But I can't do that. Whatever I do, I've got to do myself."
Surely it would be difficult to trust anyone to take all this material and create something that Shawcroft deems worthy of Hedberg's legacy. But hopefully Shawcroft knows what she's doing as far as figuring out how to best release the material so that it can be enjoyed by the masses in the most satisfying way possible. At the very least, she needs to find a filmmaker who can help shape a project int something that she's comfortable with. Then maybe Netflix would be a good home for a new special or two, or maybe even Amazon since they're been putting more effort into diving into stand-up comedy.
No matter what form this new material takes, Shawcroft says, "At some point soon, all of you will be hearing and seeing Mitch again. And I'm betting he'll still make you look at the world in a slightly different way." Personally, I can't wait to see some of this new stand-up material from Mitch Hedberg. We'll let you know when it might be available for your listening and viewing pleasure.