Amazon Announces New Documentary Series On The Competitive World Of Stand-Up Comedy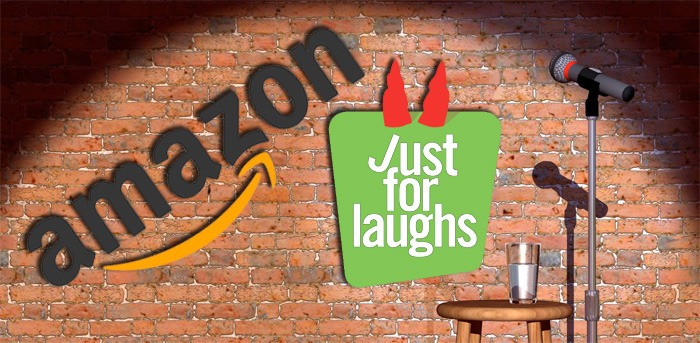 The world of stand-up comedy is so much more than the stand-up specials you see on Netflix, Comedy Central and HBO. But those all feature comedians who have put in countless hours of stage time at small comedy clubs, wrote and reworked jokes over and over again, and competed with thousands of other up and coming comedians who want nothing more than to play the big rooms and make millions laugh. This is the world that Amazon will focus on in a new documentary series.
Deadline reports Amazon Studios is teaming up with the famous Montreal Just for Laughs comedy festival for a documentary series that will follow a group of stand-up comedians in New York and Los Angeles as they compete for a coveted spot in the New Faces showcase. This is a show that can really help launch a stand-up comic's career and get them on the radar for representation and stardom in the comedy world.
As of now the series is untitled, but it will be comprised of six episodes focusing on comedy clubs where all the highs and lows of working in comedy will be felt. Whenever you see stand-up comedy on TV, that's the result of workshopping material for months, even years. That's why it always goes so well on those specials. But in the lower echelons of the comedy world, there are far more frustrations, especially when it comes to balancing a career in comedy with a day job, the presence of hecklers, and the dread of bombing on stage.
For those who might be unfamiliar with the Montreal Just for Laughs comedy festival, it features some of the biggest names in comedy. And the New Faces showcase is where some of those big names got started. Kevin Hart, Amy Schumer, Kumail Nanjiani and many more came through the New Faces showcase.
The Amazon stand-up comedy documentary series will chronicle the auditions for this showcase, the callbacks for those good enough to be further considered, and all the preparation that goes into getting up on stage for this huge opportunity. It will dive into the mind of comedians as they write and polish their jokes and schmooze talent reps and producers looking for the next big comedy star.
Emmy winner Jimmy Fox (United Shades of America) will executive produce the series through his Main Event Media banner and Neil Berkeley, Star Price, Bruce Hills and Just for Laughs Media will also act as executive producers.
As a stand-up comedy nerd, this is a documentary series that I can't wait to see.