'Bumblebee' Featurette: Director Travis Knight Touts The Influence Of Spielberg And LAIKA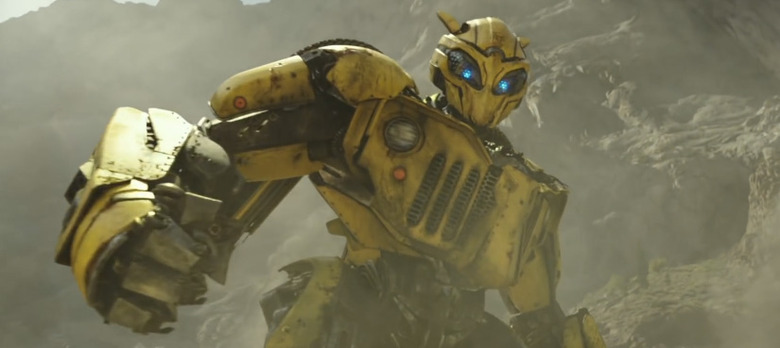 Last week brought the first teaser trailer for the Transformers spin-off Bumblebee. The film focuses on the vocally-challenged, signature yellow Autobot who has been a cornerstone of the entire franchise right alongside Optimus Prime. Now, Bumblebee finds himself on his own in what is something of an origin story for the character as he goes on an adventure that happens decades before the first installment of the Transformers movies.
A new Bumblebee featurette has arrived with a focus on director Travis Knight, the man who has done wonders with stop-motion animation at LAIKA. After directing Kubo and the Two Strings and having his hand in LAIKA's other projects such as Coraline and ParaNorman, Knight hopes to bring some of that mesmerizing storytelling to the Transformers universe.
Watch the Bumblebee Featurette
In the featurette, Knight says, "At LAIKA, we try to find an artful balance of darkness and light, intensity and warmth, and humor and heart. The idea of being able to bring that philosophy to Bumblebee was really exciting." Indeed, if there's one thing that's been missing from the Transformers franchise in the hands of Michael Bay, it was light, warmth and heart. There may have been humor, but it wasn't ever particularly great.
Beyond that, Knight also references wanting to make a movie in the same vein of the classic, Steven Spielberg-directed coming-of-age adventures from the 1980s. If the first trailer is any indication, he's brought some of that flair to Bumblebee, with Hailee Steinfeld doing her best Spielberg face. Still, it's easy to make a movie look like it has the traits of classic Amblin Entertainment movies, but making it shine the whole way through is another story.
Meanwhile, co-star John Cena is just happy to be along for the ride. It looks like he's playing a villain in the movie, but for him, it's still a dream come true since he grew up on Transformers in the same decade in which the movie is set. Hopefully, he'll get to wear some sweet jorts at some point during this movie.
On the run in the year 1987, Bumblebee finds refuge in a junkyard in a small Californian beach town. Charlie (Hailee Steinfeld), on the cusp of turning 18 and trying to find her place in the world, discovers Bumblebee, battle-scarred and broken. When Charlie revives him, she quickly learns this is no ordinary, yellow VW bug.
Bumblebee arrives in theaters on December 21, 2018.