'Luke Cage' Season 2 Trailer: Mariah Wants To Be Queen, But A New Bulletproof Villain Threatens Her Crown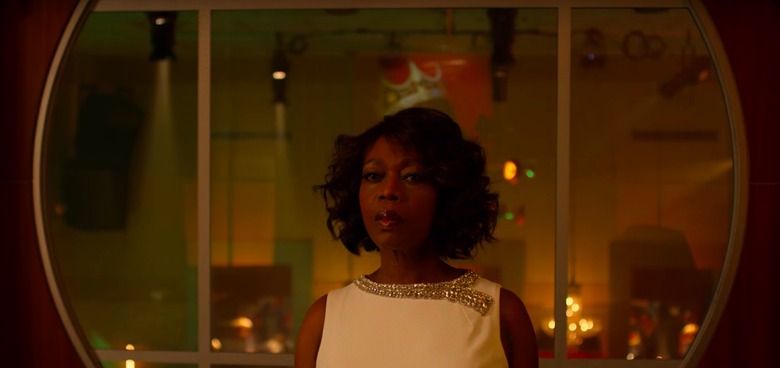 Step down, Luke Cage. Your queen is speaking. The newest Luke Cage season 2 trailer shifts away from Harlem's heroes for once, and gives the spotlight to the far more interesting characters: the villains.
Mariah Dillard (Alfre Woodard) has been a formidable presence since season 1, though her star was outshined by Mahershala Ali's Cottonmouth and Erik LaRay Harvey's Diamondback. But no more. She is here to take her crown as the queen of Harlem — if only a new bulletproof baddie wouldn't get in the way.
Luke Cage Season 2 Trailer
Mustafa Shakir's bulletproof Bushmaster may be the king of pain, but watch the queen conquer. Or queens, perhaps, if the arrival of a crime lord named Rosalie (Annabella Sciorra) carries any weight.
Empowered as a politician (and now a club owner after her cousin's death), Mariah Dillard is ready to bring "miracles" to the neighborhood of Harlem. But the New York City borough is shaken up by two new villains: John McIver, AKA "Bushmaster," a bulletproof man who may be even more powerful than Luke Cage, and the crime lord Rosalie, glimpsed at the end of the trailer. These new dangerous forces may force Luke to do something he never thought he would do: team up with Mariah to protect her life.
Luke Cage (Mike Coulter) rescues her from an act of arson that almost kills her, but Mariah takes advantage of his good intentions and potentially brings him on as permanent protection — her "dark chocolate boy scout," as she says. Things aren't looking great for Luke, who reluctantly admits "Harlem can only handle one devil at a time."
Here is the official synopsis for Luke Cage season 2:
After clearing his name, Luke Cage has become a celebrity on the streets of Harlem with a reputation as bulletproof as his skin. But being so visible has only increased his need to protect the community and find the limits of who he can and can't save. With the rise of a formidable new foe, Luke is forced to confront the fine line that separates a hero from a villain.
Luke Cage season 2 premieres on Netflix on June 22, 2018.