James Wan Developing 'Arachnophobia' Remake At Amblin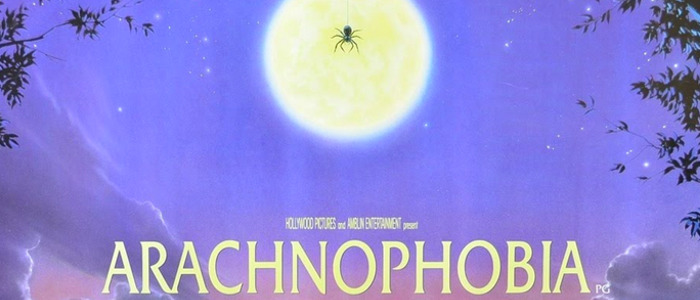 Attention, spider-fans: Frank Marshall's creepy-crawly horror-comedy Arachnophobia is getting a reboot at Amblin Entertainment, with The Conjuring's James Wan producing.
Deadline reports that Amblin has decided to reboot the 1990 Frank Marshall flick Arachnophobia, which means a whole new generation can feel their skin crawl as they watch thousands of spiders scurry across the screen. Horror master and Aquaman helmer James Wan is going to produce the Arachnophobia remake, with a director and writer to be chosen relatively soon.
The original Arachnophobia told the story of a doctor (played by Jeff Daniels) who moves his family to a suburban California town to take over a new practice. Daniels' character isn't the only newbie in town: a deadly spider from the Amazon rain forrest has just arrived after hitching a ride in a coffin. The spider mates with a local spider, which then gives birth to a shit load of deadly baby spiders. The spiders begin infesting the town and killing locals with their deadly bite. Daniels teams up with an entomologist (Julian Sands) and a comical exterminator (John Goodman) to stop the arachnids.
It's an entertaining film, with a memorable performance from Goodman. It's also a film I will probably never watch again as long as I live, because the thought of watching all those spiders gives me the creeps. Marshall's original film employed (mostly) real spiders, which made the movie extra unnerving. That said, I could probably handle this new take on the material, because I'm sure CGI spiders are going to be involved – because that's just how things are done these days.
Arachnophobia was the directorial debut of Marshall, who already had an established career in Hollywood as a producer, frequently working with Steven Spielberg. Marshall produced The Goonies, Poltergeist, Gremlins, and many more. "As a producer for 20 years, I know how hard directing is, and I didn't want to do anything I'd had no experience with," Marshall said in an interview. "Disney's Jeff Katzenberg sent me the script, and I felt it was something I could do. I didn't want to get into a serious dramatic piece that might stretch me beyond my capabilities."
I don't know how much demand there is for an Arachnophobia remake. I'll wager most people remember Marshall's film, but it doesn't strike me as a hot commodity audiences are clamoring for. Then again, perhaps that's what makes it the perfect remake fodder: an already established concept that a new filmmaker can expand on for a new audience. In the meantime, please enjoy this vintage making-of feature about the original film.