Gal Gadot Teaming Up With Dwayne Johnson For Action Comedy 'Red Notice'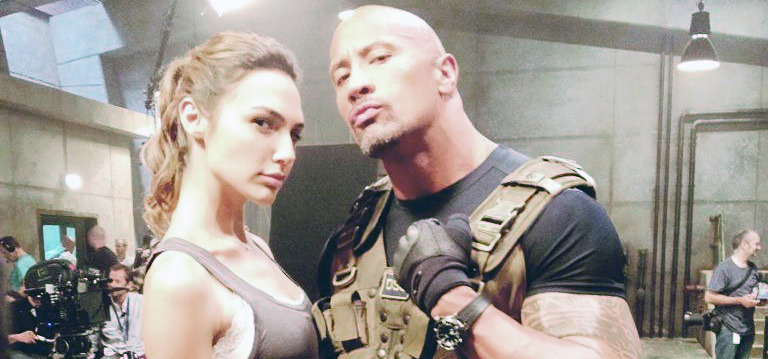 The box office better prepare itself for a team-up of Wonder Woman and The Rock.
Gal Gadot, the saving grace of the DC Extended Universe, is teaming up with box office superstar Dwayne Johnson for an action comedy called Red Notice. You might remember this title being at the center of a bidding war that Universal Pictures won, and the project has only gotten more intriguing with the addition of Gal Gadot.
Deadline has the news of Gal Gadot joining Red Notice. The actress decided to join the project after director and writer Rawson Marshall Thurber flew to London to pitch the project to Gadot in person. Unfortunately for us, that pitch is certainly being kept under tight wraps. The only thing we know about the project is it's described as a "a globe-trotting, action-comedy, heist thriller."
If Gal Gadot and Dwayne Johnson teaming up for an action comedy wasn't enticing enough, apparently this movie is a three-hander. So a second male star will be added to the mix. Much like the plot, character details are sparse at this time, though Gadot is said to be "a brilliant and mysterious figure in the art world." That doesn't sound much different from Diana Prince's modern day job in Justice League.
Red Notice will mark Rawson Marshall Thurber's third collaboration with Dwayne Johnson. First they teamed up on the action comedy Central Intelligence (co-starring Kevin Hart), and this summer they're following it with the less comedic Skyscraper. Thurber has certainly changed gears from his previous efforts Dodgeball: A True Underdog Story and We're the Millers. And he must be doing something right if Dwayne Johnson wants to keep working with him.
Universal is obviously pleased with Thurber too since they forked over a lot of dough to snag Red Notice. The studio beat out Legendary, New Line, Paramount, Sony, and even Netflix in a bidding war. The finalized deal included a $20 million payday for Johnson and a $10 million paycheck for Thurber. We can only hope that Gadot is getting a hefty payday as well, but her fee isn't mentioned in the report.
This will be a true test of the star power of Dwayne Johnson and Gal Gadot. Sure, the two previously appeared in Fast Five and Fast and Furious 6, but Red Notice is an entirely original idea, so it doesn't have any established intellectual property to fall back on.