'Ant-Man And The Wasp' TV Spots: Ant-Man May Be An Avenger, But The Wasp Takes The Lead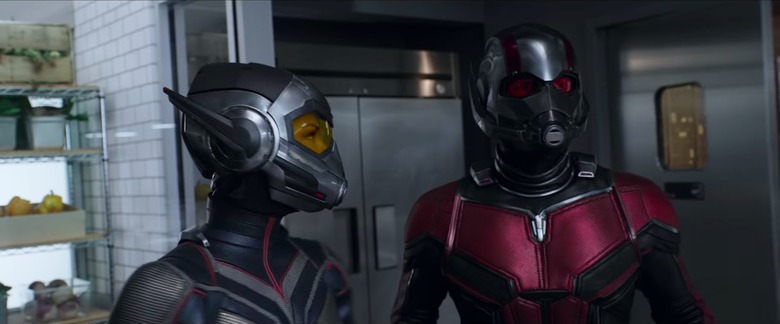 Hope van Dyne is done playing second fiddle. After a new Ant-Man and the Wasp poster put the superheroine front and center, the latest Ant-Man and the Wasp TV spots remind us of what a goofball Scott Lang (Paul Rudd) is, and how awesome Evangeline Lilly's Hope is. So Scott can brag all he wants about being an Avenger — Hope is taking the lead.
Two new Ant-Man and the Wasp TV spots give us some new glimpses of the movie's Big Bad, Ghost (Hannah John-Kamen) and the shaky partnership between Hope and Scott as the two of them vie for the upper hand — literally.
Ant-Man and the Wasp TV Spots
The first "House Arrest" TV spot kind of explains why there is that shot of an ant playing the drums (though really, does it need explanation?) — this is Scott's favorite activity while he's under house arrest for teaming up with Steve Rogers in Captain America: Civil War. But he gets quickly brought back into the fight by Hank Pym (Michael Douglas) and Hope, who need his help with "something powerful" that they unleashed. That something is John-Kamen's Ghost, a tech-savvy supervillain that can phase through walls using Pym technology.
The next TV spot uses much of the same footage that we saw in the first spot, though it does give a little more spotlight to Hope, who orders Scott to "follow her lead."
Plus, a new Ant-Man and the Wasp IMAX poster has been revealed courtesy of ComicBook,com, showing Scott Lang as Giant Man, casting a huge shadow over the film while Hope van Dyne charges on ahead.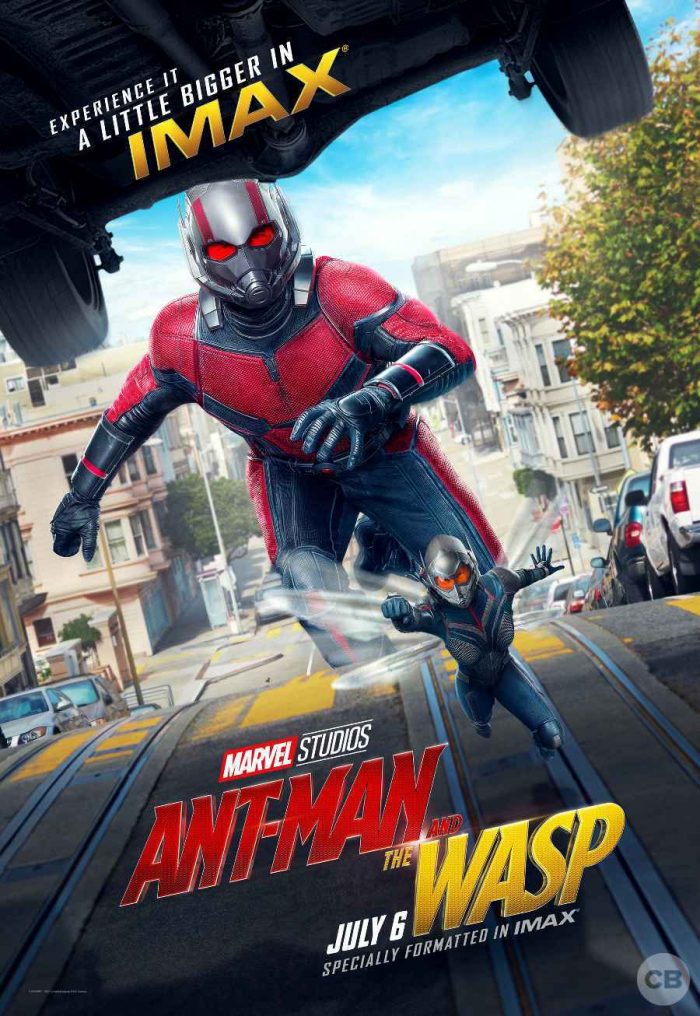 Peyton Reed returns to diect Ant-Man and the Wasp. The film stars Paul Rudd as Scott Lang, Evangeline Lilly as Hope van Dyne, and Michael Douglas as Hank Pym, and will also introduces Michelle Pfeiffer as Janet van Dyne, Laurence Fishburne as Doctor Bill Foster, Hannah John-Kamen as Ghost, Randall Park as Agent Jimmy Woo, and Walton Goggins as Sonny Burch.
Ant-Man and the Wasp opens in theaters on July 6, 2018.
Scott Lang is grappling with the consequences of his choices as both a superhero and a father. Approached by Hope van Dyne and Dr. Hank Pym, Lang must once again don the Ant-Man suit and fight alongside the Wasp. The urgent mission soon leads to secret revelations from the past as the dynamic duo fi

nds itself in an epic battle against a powerful new enemy.