'House Of Cards' Season 6 First Look Shows Robin Wright In Command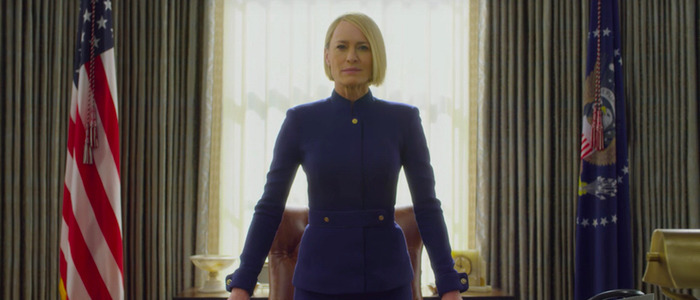 The first images from House of Cards season 6 are here, and Robin Wright is front and center. The fate of the Netflix series was momentarily uncertain after star Kevin Spacey was fired in the light of sexual misconduct allegations. Now, it will return for a final season later this year.
When House of Cards returns for its sixth and final season this year, it's going to be a markedly different show. Since 2013, the Netflix series has served as a showcase for Kevin Spacey, who played evil President Frank Underwood, back when having an evil, manipulative president was only a flight of dramatic fancy rather than an every-day reality. Spacey's time on House of Cards came to an end late last year when Netflix fired him in the wake of sexual assault allegations. Production on the series was halted altogether, and many theorized that House of Cards wouldn't return at all. Producers had decided that season 6 would be the show's last long before the Spacey allegations arrived, but with Spacey's firing, the future of the show was in doubt.
The decision was ultimately made to go forward with the final season and elevate Robin Wright, who had long been a co-lead with Spacey playing Frank Underwood's wife Claire, to main character. A teaser trailer featuring Wright hit the internet earlier this year. Now, our first official images from the new season have arrived as well. You can see them below.
There's not a whole lot to go on here. One image shows Robin Wright's Claire looking directly into the camera, likely delivering one of show's famous third-wall-breaking narrations. The other is a behind-the-scenes shot of Wright on set. While we can't gather any plot details from these photos, the message they're sending is clear: this is Robin Wright's show now. And that's great – Wright is phenomenal, and her work on the show has always been good...but also overshadowed by Spacey. Giving Wright a chance to step into the lead enables House of Cards to end on a high-note, and hopefully get out from under the toxic atmosphere Spacey's actions left behind.
The big question now is: how will House of Cards explain the absence of Spacey's Frank Underwood? Season 5 ended with Frank resigning the presidency, enabling Wright's Claire, who was then Vice President, to ascend into the role of Commander-In-Chief. As the season drew to a close, a rift had formed between Claire and Frank, and it was assumed the sixth season would be about the battle for power between the married couple. Now, that's clearly out the window. I can only assume season 6 will kill Frank off, with the character likely having died off-screen in between seasons. But that's just an educated guess – the series might have another plan altogether.
In addition to Wright, House of Cards season 6 will feature Michael Kelly, Jayne Atkinson, Patricia Clarkson, Constance Zimmer, Derek Cecil, Campbell Scott and Boris McGiver – all of whom appeared in previous seasons of the show. Newcomers to the cast include Diane Lane, Greg Kinnear and Cody Fern.
House of Cards season 6 will arrive on Netflix sometime this year.