'The Predator' TV Spot Reveals The Genetically Modified Mega-Predator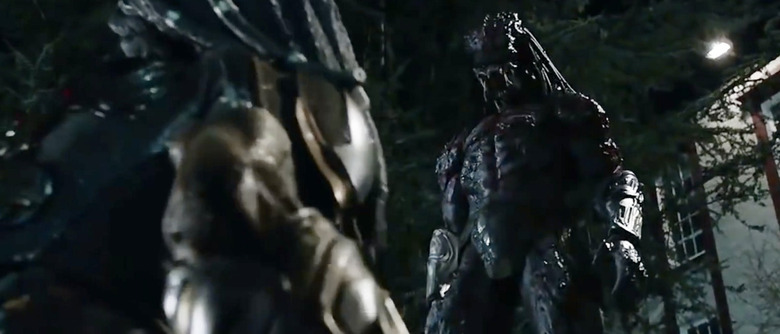 The NBA Finals came to a close last night, but not before a brand new TV spot for this fall's release of The Predator debuted.
The first trailer for The Predator was a little underwhelming, especially without a big moment to entice even the biggest fans of the franchise. But thankfully this latest TV spot is a much tighter and more exciting tease of the movie, especially because it teases the genetically modified hybrid mega-Predator, and this thing looks like a beast.
Watch The Predator TV Spot
While the TV spot still doesn't give much away in the vein of the story, it would appear that this towering mega-Predator might be on the side of humans. But much like the genetically enhanced hybrid Indominus Rex of Jurassic World ended up being a bad idea, we're betting on this mega-Predator turning against its creators and causing even more of a problem before all is said and done.
There are plenty of new shots of cast members Boyd Holbrook (Logan), Sterling K. Brown (Hotel Artemis), Keegan-Michael Key (Keanu), and Trevante Rhodes (Moonlight) trying their best to survive attacks by the Predator in question. The rest of the cast includes Thomas Jane, Edward James Olmos, Augusto Aguilera, Alfie Allen, Olivia Munn, Yvonne Strahovski, Jacob Tremblay and Jake Busey, playing the son of his father Gary Busey's character from Predator 2.
Shane Black (The Nice Guys, Iron Man 3) is directing The Predator, and he also co-wrote the script with Fred Dekker. If you'd like to find out more about Black's approach to reviving the sci-fi action franchise, check out our set visit interview with the man himself over here. We've also got interviews with Boyd Holbrook, Olivia Munn and Keegan-Michael Key, so make sure to give those a read as well.
From the outer reaches of space to the small-town streets of suburbia, the hunt comes home in Shane Black's explosive reinvention of the Predator series. Now, the universe's most lethal hunters are stronger, smarter and deadlier than ever before, having genetically upgraded themselves with DNA from other species. When a young boy accidentally triggers their return to Earth, only a ragtag crew of ex-soldiers and a disgruntled science teacher can prevent the end of the human race.
The Predator blasts into theaters on September 14, 2018.