Samuel L. Jackson On How He Was Left Out Of 'Infinity War,' DC Movies, And Why Kids Don't Care That He Voiced Frozone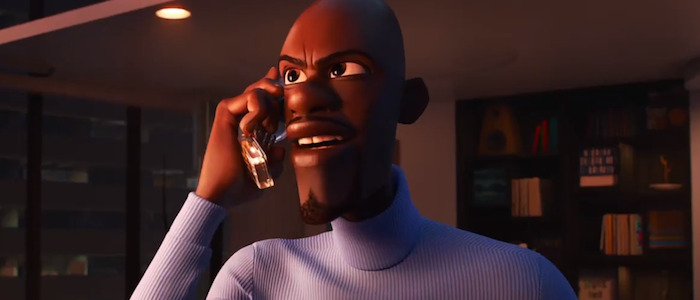 Years before he joined the Marvel Cinematic Universe as Nick Fury, Samuel L. Jackson lent his talents to another superhero universe. As the voice of Frozone in Pixar's The Incredibles, Jackson's familiar voice provided scene-stealing comic relief, bringing to life the super-powered Parr family's best friend and partner in crimefighting.
Now, Jackson is back for Incredibles 2 and if you think someone was going to ask him a Marvel-related question at the press conference for the latest Pixar sequel...well, you'd be right. Jackson responded to the question by playfully complaining about being left out of the latest Avengers adventure and the Marvel "secret sauce" that makes their movies work. Oh, and he also explained that kids couldn't care less that he voices Frozone.
At the Incredibles 2 press conference, one journalist asked Jackson about the thematic connections between the world of the Incredibles and the MCU. Specifically, how they revolve around families, both traditional and makeshift. Jackson joked that the family decided to abandon him in the latest Marvel outing:
Family! Family. Well, as I remember, that family fell out in Infinity War. It happens. And nobody called me to make them be good. I did bring all these people into SHIELD and all of a sudden I'm not there! So I don't know what you're talking about. I can't relate!
But Jackson got serious for a moment and praised how the filmmakers behind the scenes have made the MCU work...and how they've built a pretty effective family of their own. But first, he threw some shade at the Distinguished Competition – DC:
The genre has grown and it has grown inside this one place. Sure, there's that other company that makes movies that are like this...some of them are good. There's a real interesting playbook that I look when I watch all the movies and they have this secret sauce...sometimes I wonder because I'm there and I'm looking at the directors and I go "These guys did a TV show. Why are they doing this? If this person does these serious dramas, why is he doing this?" There's something that they know, or they find that makes it work. The relationships among the people on the inside of those films always become intimate and intricate. Sometimes, the people who are really related, like Loki and Thor, they don't like each other or there's family discord. And the people that don't know each other that are looking for that connection become tied together in a very interesting sort of way. You've got your bratty brother in Iron Man. You've got your special needs kid in Hulk. You've got your sister who turns out to be Black Widow, a real killer. All these things come together and these people find a common goal or they're all working toward the common good, which brings them together in a very unique and interesting way.
If you're wondering why the Incredibles 2 press conference turned into a Marvel press conference, join the club. Writer/director Brad Bird interrupted Jackson to ask him just that, so the actor quickly found a way to tie it all together:
I'm just saying! They let me work on all of those movies for a reason. Because I really don't know what's going on but I can pretend I do. Kind of like this one. I really don't know what's going on, but I know they need me and I make the icy stuff and I make things happen.
But Jackson wasn't done stealing the whole press conference. When asked if children ever recognize him as the voice of Frozone, Jackson made it clear that kids never recognize him. But their parents? That's another story:
Kids don't do that. Their parents do. And then they try to make the kids know who you are. That's Frozone, honey! And then they're looking at you like "You don't have a blue suit on. You're not making ice stuff. Nah!" "Where's my super suit, honey? I don't know!" They don't know who we are from Adam. Now as they get older, the kids who were four when they saw the movie are now 18. They've been waiting. They're knocking little kids over to get in line. My daughter's 35, she's knocking big kids over to get in line. We don't get a new audience because we did a movie kids really like. They have no idea who we really are, in our real selves.
Craig T. Nelson, who voices Mr. Incredible, could relate:
It's embarrassing, really. The moms and dads are saying "Look, Bill! That's Mr. Incredible!" And the kid's just staring at you. "Well, say something like Mr. Incredible!" It's been 14 years, I don't remember what I said in the first one. How about this? "It's showtime!" It's just embarrassing.
Incredibles 2 opens on June 15, 2018.