'Dora The Explorer' Movie Brings In Mexican Superstar Eugenio Derbez For A Key Role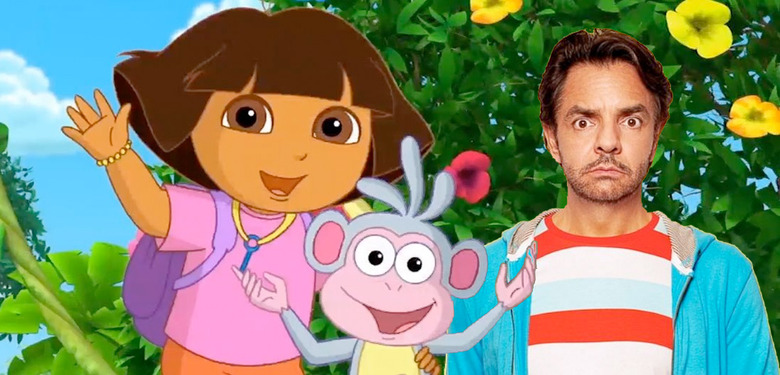 Eugenio Derbez is already one of the biggest stars in Mexico, but now he's trying to build up his profile for American audiences. His recent turn alongside Anna Faris in the remake of Overboard helped a bit, but his next movie will see him tackling a much different role.
The live-action Dora the Explorer movie is coming together at Paramount Pictures, bringing the educational animated series from Nickelodeon to the big screen. Transformers: The Last Knight star Isabela Moner is already on board as the title explorer, and now we have word that Eugenio Derbez will be part of the cast as well. However, the role he's playing might be considered a spoiler, so if you're worried about ruining a key part of the Dora the Explorer movie, you've been warned.
Collider has word that Eugenio Derbez has joined the Dora the Explorer movie cast as a fellow explorer named Alejandro Gutierrez. However, this roguish man ends up being the villain of the film, which may or may not be a detail that is kept a mystery until it is revealed over the course of the story. It's not stated what Derbez's character is up to that makes him the villain, but surely it will be the opposite of whatever Dora's agenda might be.
It's interesting that Eugenio Derbez is being cast as a villain when his roles in Mexico have painted him as anything but. It's another in a long line of actors who are popular in foreign countries being brought into Hollywood movies by way of villainous roles. It would be like if Jack Black played a villain in a Hong Kong action movie. Come to think of it, that would be awesome, so I hope someone in Hong Kong makes that happen.
What Does a Dora the Explorer Movie Look Like?
The prospect of a live-action Dora the Explorer movie is somewhat perplexing to me. As someone who had a sister who grew up on the franchise, I can tell you this series was geared towards kids in a very wholesome way. Each episode followed Dora, a seven-year old girl as she embarked on a quest to partake in some kind of activity or to visit some kind of special place. Interactive questions, puzzles and more fueled the series as she went on her adventure. Check out the example above. How will this be translated into a live-action movie?
As of now, all we know is that Dora the Explorer will be a teenager in the movie, and she heads out on some kind of adventure with her animal friend, Boots the monkey, and her cousin Diego. Could we be looking at some kind of female teenage Indiana Jones here? That has the potential to be fun, but I'm not sure exactly how that appeals to kids who grew up on the series who are in their teens and early 20s now. And it certainly doesn't sound like the best approach to gear it towards younger kids.
No matter what this Dora the Explorer movie turns out to be, the project will reunite The Muppets director James Bobin with co-writer Nick Stoller, who is working on the script with Danielle Sanchez-Witzel.