'Star Wars Battlefront II' Trailer Teases New Han Solo Season With Lando's Millennium Falcon & More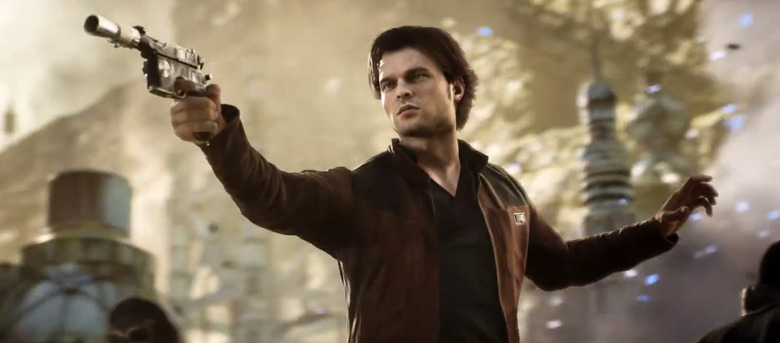 Now that Solo: A Star Wars Story has been in theaters for a couple weeks, it's time for Star Wars Battlefront II to get a new season bringing several elements from the Star Wars origin story into the video game.
A new Han Solo season is now available for players to download. In addition to bringing Alden Ehrenreich as young Han Solo and Donald Glover as the snazzy Lando Calrissian, you can also fly around in the sleeker, shinier version of the Millennium Falcon. But that's not all players will get with this new season. Check out the Star Wars Battlefront II Han Solo season trailer below.
Star Wars Battlefront II Han Solo Season Trailer
Along with the new playable characters and Lando Calrissian's Millennium Falcon, there are also new levels from Solo: A Star Wars Story, including the coaxium mine on Kessel and an updated version of Jabba's palace. That latter level also brings Leia in Boushh disguise and Lando in skiff guard disguise as a playable character so you can play out your favorite Return of the Jedi face-offs in the game.
You can take advantage of all these new features in new game modes including Hero Showdown, Starfighter Arcade and Extraction. The former of the three new modes seems the most promising since it's a two-on-two face battle between the Star Wars main characters, which aren't as commonly playable for everyone in the usual game variants. You can download the new Han Solo season starting on June 12.