'Hotel Artemis' Early Buzz: A Wild, Stylish Debut For Drew Pearce That Falls Short Of Greatness
This week brings Hotel Artemis to theaters, marking the directorial debut of Iron Man 3 writer Drew Pearce. Set in a world reiminiscent of John Wick, our story unfolds in and around a hotel for criminals ran by Jodie Foster. She's surrounded by an ensemble that includes the likes of Sterling K. Brown, Sofia Boutella, Jeff Goldblum, Brian Tyree Henry, Jenny Slate, Zachary Quinto, Charlie Day, and Dave Bautista. But is that enough to make for a praiseworthy action flick?
Read our Hotel Artemis review round-up below to find out.
Benjamin Lee at The Guardian finds things to like, but says the film ultimately falls short:
"Tonally, the film lurches from techno-soundtracked fight scenes to teary monologues to knockabout humor within minutes, the pace rarely letting up long enough for one to notice the unevenness. For the most part, the nuttiness works but as the film careers off the rails toward the end, it feels like the product of some studio tampering. At just 97 minutes, it's often rushed, the eagerly awaited confrontations and reveals thrown at the audience and landing without the fireworks they deserve. Pearce ultimately chooses action and immediacy over drawn out suspense, a shame given that the film sets up a number of Hitchcockian situations that aren't squeezed for quite enough juice. Smarts and intrigue give way to lapses in logic and generic fight sequences that segue into a shameless sequel-baiting finale.
For all of its faults, there's still plenty here to praise, the result of so much being thrown at the wall is that some of it will stick. Pearce has a sharp creative flair and a head full of ideas but he feels somewhat hemmed in by the constraints of a short running time and a high profile release date. There's a more audacious and structurally sound film somewhere, maybe we'll see it at a later stage, but for now, Hotel Artemis will stick out as one of the summer's most alluring curios."
Sheri Linden at The Hollywood Reporter says the movie is less than the sum of its imaginative parts:
"At the helm of his first feature, Iron Man 3 screenwriter Pearce and his collaborators have created a darkly cartoonish sensibility for a lean, grown-up storyline. The flavorful cast inhabit vividly drawn characters, and, perhaps most of all, the film exudes wall-to-wall, high-grunge atmosphere. That's a lot of checked-off boxes, and yet the effect is efficiently wild rather than wildly involving, entertaining but not indelible...Pearce choreographs the action with concision and energy, but it's two-dimensional energy, like a graphic novel that never lifts off the page."
David Ehrlich at IndieWire also says the movie never lives up to its potential:
"Yet, for all of these potential charms and prophetic worries, "Hotel Artemis" struggles to sustain even the most basic level of intrigue, suspense, or entertainment value. A handful of amusing details in desperate need of a purpose, the film spends its first half looking for a compelling reason to exist, and its second half trying to disguise the fact that it can't find one."
Robert Abele at The Wrap wasn't impressed either:
"Though it boasts an agreeably preposterous scenario and a weird mixed bag of physicalities and acting styles...the movie is itself an eye-rolling performance of cyber-pulp tropes and pop-movie excesses that undercuts its spotty pleasures at nearly every turn."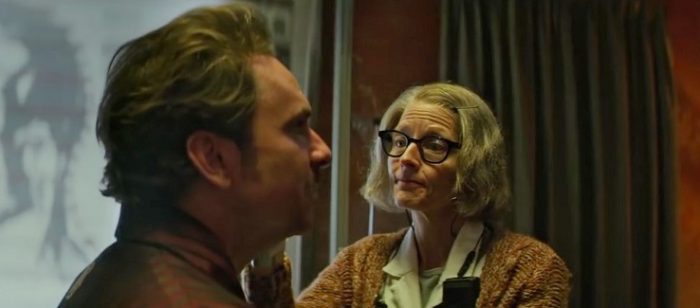 Randall Coburn at Consequence of Sound was left wanting more, but not in a good way:
"Hotel Artemis...falls victim to much of what ails any ensemble picture — rushed plotting, forced coincidence, indulgence — but still manages to make a big impression. Credit Pearce's clear-eyed vision of the film's dystopian near-future, as well as the infectious strain of zeal his top-notch cast brings to the writer/director's vibrant slate of characters.
Unlike recent action standouts like John Wick or Atomic Blonde, Hotel Artemis spends as much time setting up emotional payoffs as it does action setpieces, which is unfortunate when the film seems to promise a finale much more climactic than the one it actually reaches. The fight sequences are thrilling, especially the ones involving Boutella, but they nevertheless leave one wanting more."
Mark Kennedy at ABC News praised Jodie Foster and Sterling K. Brown in the movie, but notes that they can't really save it:
"Good as these two are, they can't conceal the fact that writer and director Drew Pearce has made an uneven feature film directorial debut. He flaps around for a consistent tone, stunts some potential story lines and kicks out a bunch of cliches. Then, clearly unable to find a rational way to end his film, he adds two massive doses of nonsensical ultra-violence."
Kristy Puchko at Pajiba seems to be the most satisfied, though still notes the movie's shortcomings:
"This is unapologetically indulgent, giving into the seductive swoon of gangster movies, allowing us to fall in love with these dastardly yet sexy bastards. Hotel Artemis sets up a spectacular contraption for drama and showdowns, then pulls the spring to give us a catastrophic and compelling spectacle of collisions and human carnage amidst a sweltering setting pungent in sex and death. You get to see a payoff for every single setup. But things go off the rails in the finale, feeling overstuffed and ultimately rushed. Still, this bit of overeager fumbling is easy to forgive, because ultimately Hotel Artemis offers an unrepentant rush, scads of style, and sensationally fucked-up fun."
***
The consensus seems to be that despite all of the style and flair brought to the table by Drew Pearce, the parts of Hotel Artemis that work don't entirely come together to create a satisfying movie. Though the cast and action sequences offer plenty of excitement and thrills, the movie as a whole is ultimately disappointing and messy. At the very least, it shows Pearce has potential to hone his skills and do something truly great in the future.
Hotel Artemis hits theaters this week on June 8, 2018. Watch the red band trailer over here.