'How To Train Your Dragon 3' Trailer: A New World Of Dragons Is Discovered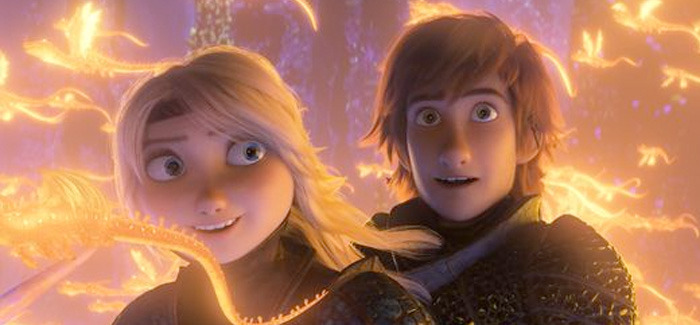 The time has come for the How to Train Your Dragon franchise to end. But before it does, Hiccup (Jay Baruchel) and his Night Fury dragon companion Toothless have one more adventure to go on, and it could change both of their lives forever.
How to Train Your Dragon: The Hidden World takes us to a mysterious new place where there are dragons no one has ever seen before. One of them includes a sparkly, white dragon appropriately called a Light Fury, and as you can see in the first How to Train Your Dragon 3 trailer, Toothless is immediately smitten with this stunning creature.
Watch the How to Train Your Dragon 3 Trailer
In How to Train Your Dragon 3, the civilization of Vikings has learned to live in perfect harmony with the dragons who were once their sworn enemies. However, even though Toothless has become trained and domesticated, not unlike a giant fire-breathing cat, his meeting of this Light Fury threatens to pull him away from the human world where he's found comfort. But at first, he's a bit charmingly befuddled like Hugh Grant.
"Toothless is a complete bumbling amateur when it comes to issues of courting," director Dean DeBlois told USA Today. "He isn't in touch with his primal instincts for these love matters."
Hiccup takes it upon himself to help Toothless with his flirting rituals, but since the young Viking leader isn't exactly the most skilled ladies man, it might not be the best advice for Toothless. But soon the dragon begins to hear the call of the wild world, and Hiccup may soon have to realize that his buddy might have a different destiny than hanging out in Viking villages.
That's not the only problem facing Hiccup though. As you can see in the trailer, there's a big game hunter named Grimmel the Grisly (voiced by F. Murray Abraham) who has been stalking the near extinct Night Fury species, and Toothless is next in his sights. One can only imagine how hungry he'll be for the hunt when he learns about the Light Fury.
America Ferrera, Cate Blanchett, Gerard Butler, Craig Ferguson, Jonah Hill, Kristen Wiig, Christopher Mintz-Plasse are also expected to reprise their voice roles in How to Train Your Dragon: The Hidden World.
As Hiccup fulfills his dream of creating a peaceful dragon utopia, Toothless' discovery of an untamed, elusive mate draws the Night Fury away. When danger mounts at home and Hiccup's reign as village chief is tested, both dragon and rider must make impossible decisions to save their kind.
How to Train Your Dragon: The Hidden World arrives on March 1, 2019.