'Voltron: Legendary Defender' Season 6 Trailer: The Lotor-Voltron Alliance Is Tested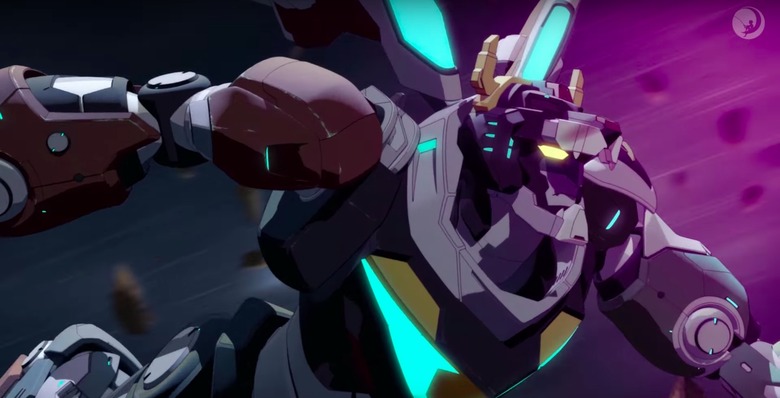 Boy, they sure are churning out these Voltron: Legendary Defender seasons, aren't they! Three months after the release of season 5, we have the first Voltron season 6 trailer, which follows the Voltron Paladins in the midst of their shaky alliance with Lotor.
Though the groups have reached a sort of harmony now, that alliance will soon be tested now that the Paladins have helped Lotor take over the Galra Empire from his evil father, King Zakar. Because it turns out you can take the evil ruler out of the Empire, but you can't stop his evil minions from oppressing the rest of the galaxy.
Voltron Season 6 Trailer
Hey everyone, Keith's back! And he's probably not happy that the Paladins have entered an alliance with their former foe, Lotor. But unlike Lotor's somewhat sinister character design, he's not about to go back on his promise to bring peace to the Empire.
"I will deliver the Galra Empire unto times of prosperity, an age of unlimited quintessence," Lotor declares in the promo. "Those factions that have splintered from the Empire will pay for their treachery."
But it takes more than a nice speech to get the Galra Empire to stop their conquering ways. Season 6 will follow Lotor as he conteds with opposition from within the Empire while also trying to take his people forward into a more peaceful future.
Showrunners Joaquim Dos Santos and Lauren Montgomery, best known for their work in Avatar: The Last Airbender and The Legend of Korra, are bringing Voltron into a fresh, exciting new territory with this alliance, while of course adding the curveball of a renegade Keith. It's a fascinating clash between Keith and Lotor, who I now realize are both heavily inspired by Avatar's Zuko, the disgraced and temperamental prince who seeks to bring his father's formerly evil empire into a new era of peace and prosperity.
Voltron: Legendary Defender stars Steven Yeun as Keith, Jeremy Shada as Lance, Bex Taylor-Klaus as Pidge, Josh Keaton as Shiro, Tyler Labine as Hunk, Kimberly Brooks as Princess Allura; and Rhys Darby as Coran and A.J. Locascio as Prince Lotor.
Here is the official logline for Voltron: Legendary Defender season 6:
"Suspicious of Lotor's alliance with Voltron, Galra oppressors continue to invade and conquer vulnerable planets throughout the universe. A hyper-focused Team Voltron feels the need to liberate the helpless planets and begins a massive campaign to save millions of lives. But after the Paladins uncover some troubling information, they must engage in their most epic battle yet."
Voltron: Legendary Defender's seven-episode sixth season debuts on June 15, 2018 on Netflix.