Trailer Round-Up: 'Orange Is The New Black', 'Witch', 'McQueen', 'The Children Act', 'Yardie', 'Insecure'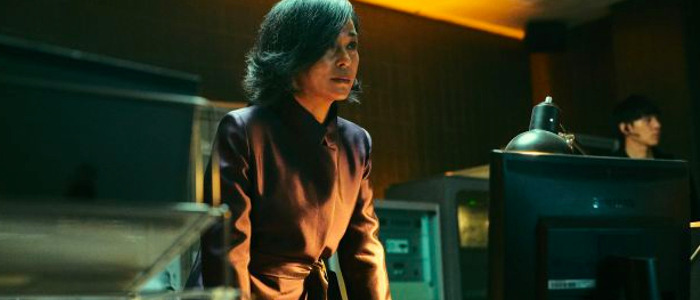 We've cast our nets into the sea of content and hauled in a fresh batch of movie trailers, just for you. In this trailer roundup, you'll see trailers for the new season of Orange Is The New Black, the Korean supernatural action flick Witch, the documentary McQueen, the courtroom drama The Children Act, the Idris Elba-directed Yardie, and Insecure season 3.
Bye bye, Litch. pic.twitter.com/Y9tWQtIO37

— Orange Is the New... (@OITNB) June 5, 2018
Orange Is The New Black season 6 will leave Litchfield behind for a whole new prison. And based on this trailer, the show is going to only get more intense. The series has already been renewed for a seventh season as well, so you'll have a whole lot more of Orange Is The New Black in your life. This teaser doesn't really offer any new footage of the upcoming season, but it does confirm the Netflix premiere date: July 27, 2018.
I Saw The Devil director Park Hoon-jung is back with Witch, a Korean supernatural action film that looks all kinds of awesome. This Witch trailer doesn't have English subtitles, so it might be hard to make out what the film is about. But based on the visuals alone, it's going to be one hell of a movie. Witch tells the story of a teenage girl who "lost her memory and then was raised by an elderly couple. She runs runs into mysterious people one day and there the adventure begins." There's no official release date yet, but keep your eyes peeled.
The life of controversial fashion designer Alexander McQueen is explored in McQueen, a new documentary from Ian Bonhôte and Peter Ettedgui. Many aspects of McQueen's caused controversy, often giving collections names like "Highland Rape." McQueen committed suicide in 2010, but his designs are still worn today. McQueen opens in limited release July 20, 2018.
Exploring the life of British fashion designer Alexander McQueen, who started his career in his teens before gaining notice as designer for Givenchy and launching his own label, which continues to this day. He took his own life in 2010.
The Children Act, based on a novel by Ian McEwan, is "a compelling and powerful drama telling the story of Fiona Maye (Emma Thompson), an eminent high court judge presiding over ethically complex cases. As the demands of her job cause her marriage to Jack (Stanley Tucci) to reach tipping point, Fiona is asked to rule on the case of Adam (Fionn Whitehead), a brilliant young boy who is refusing a life-saving blood transfusion on religious grounds. With her private life in turmoil, Fiona finds herself drawn into the case, taking the unorthodox step of halting proceedings in order to visit Adam in hospital. As the two form a profound connection and powerful emotions come to light, Fiona's judgement is put to the test with momentous consequences as she must ultimately decide whether Adam lives or dies." I'm not big on courtroom dramas, but this looks promising. And any movie that has Emma Thompson and Stanley Tucci acting their heads off is worth seeing. The Children Act opens in UK & Irish cinemas August 24, 2018.
Idris Elba makes his directorial debut with Yardie, a film set in '70s Jamaica and '80s London that "centers on the story of 'D' (Aml Ameen) who embarks on an explosive quest for retribution following the death of his brother." ""I've been vocal about how much Hackney and that part of east London influenced me as a young man," Elba said of the film, "so making a film about someone I can relate to made it easier for me. I could put a lot of myself into it. I could almost imagine the audience who might respond to the film." Yardie opens in the U.K. August 24, 2018.
Issa Rae's Insecure is back for a third season on HBO. The series "explores the black female experience. Rae stars as Issa and Yvonne Orji stars as Molly. Over the course of the season, Issa attempts to figure out what she wants out of life and how to take control of it, while fumbling her way through this journey. Molly, a corporate attorney who appears to have everything together professionally, struggles inside as she looks for external ways to fix her life. Meanwhile, Issa's boyfriend, Lawrence (Jay Ellis), who has fallen victim to complacency, works to get his own act together. Frieda (Lisa Joyce), Issa's overeager white co-worker, whose enthusiasm is both annoying and endearing, is at the crux of Issa's racial frustrations at work." The series returns Sunday, August 12 at 10:30 on HBO.