'Ant-Man And The Wasp' TV Spot: Michael Peña Is Ready To Help Catch A Ghost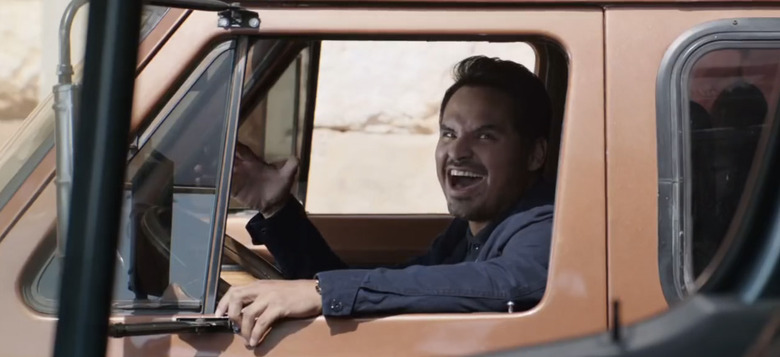 Avengers: Infinity War is still kicking around theaters, but with more and more summer blockbusters arriving every week, it's not going to stick around too much longer. But the good news is that our next dose of action from the Marvel Cinematic Universe is only a month away.Ant-Man and the Wasp arrives just after Independence Day, and it looks like it will be a nice reprieve from the huge bummer of an ending that came from Infinity War. If you don't believe me, check out the most recent Ant-Man and the Wasp TV spot where Scott Lang (Paul Rudd) decides to ask his buddy Luis (Michael Peña) to help them out again.
Ant-Man and the Wasp TV Spot
It's been awhile since anyone so earnestly offered the "Wassuuuuuup" from the old Budweiser commercials as a casual greeting, but Michael Peña definitely makes it work. Most of the footage here is quick set-up for the villain known as Ghost, played by Hannah John-Kamen. It would appear as if Hank Pym (Michael Douglas) and Hope Van Dyne (Evangeline Lilly) had something to do with creating this villain, who is likely tied to their work in trying to rescue Janet Van Dyne (Michelle Pfeiffer) from the quantum realm.
Speaking of the quantum realm, some new photos have surfaced that take us into the subatomic level of existence. We're not sure how much time we're going to spend there, but we know Janet Van Dyne has been alive there for years. The question is whether she'll be doing well. After all, I can't imagine spending that much time there is good for your mental health. Here are the new photos:
As you can see, one just features Scott Lang floating in space, while the other features Hank Pym's subatomic vehicle encountering a creepy little organism. Maybe part of this movie will be a Fantastic Voyage sort of adventure in the quantum realm, where the tiniest organisms are giant monsters. That could be a lot of fun.
Ant-Man and the Wasp is directed by Peyton Reed (Ant-Man, Yes Man) and also stars Walton Goggins, Laurence Fishburne, Tip "T.I." Harris, Judy Greer, David Dastmalchian, and Randall Park.
For more from Ant-Man and the Wasp, you can check out the most recent trailer over here.
Scott Lang is grappling with the consequences of his choices as both a superhero and a father. Approached by Hope van Dyne and Dr. Hank Pym, Lang must once again don the Ant-Man suit and fight alongside the Wasp. The urgent mission soon leads to secret revelations from the past as the dynamic duo finds itself in an epic battle against a powerful new enemy.
Ant-Man and the Wasp opens in theaters on July 6, 2018.