We're Not Sure If This 'Jurassic World: Fallen Kingdom' Poster Is A Joke, But Tickets Are Now On Sale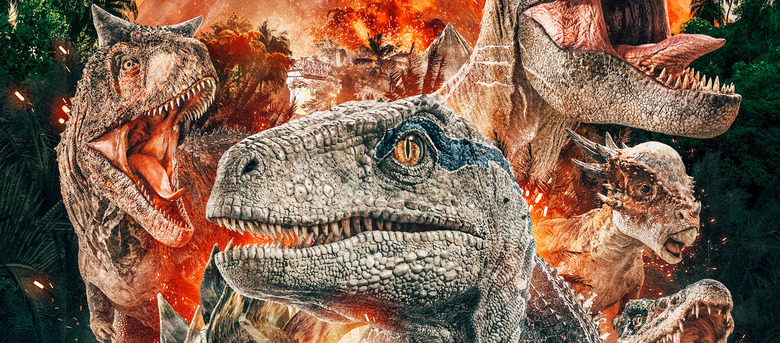 Jurassic World: Fallen Kingdom is only a few weeks away from release, and that means it's time to go pick up your tickets for opening weekend if you just can't wait to see how humans totally mishandle this dinosaur situation all over again.
To help spread the word about the blockbuster sequel, a new Jurassic World: Fallen Kingdom poster has been released that you'll be able to snag if you get your tickets through Fandango. However, we're not sure if this poster is supposed to be a parody of movie posters or not. Because it's a really dumb poster.
Jurassic World: Fallen Kingdom Poster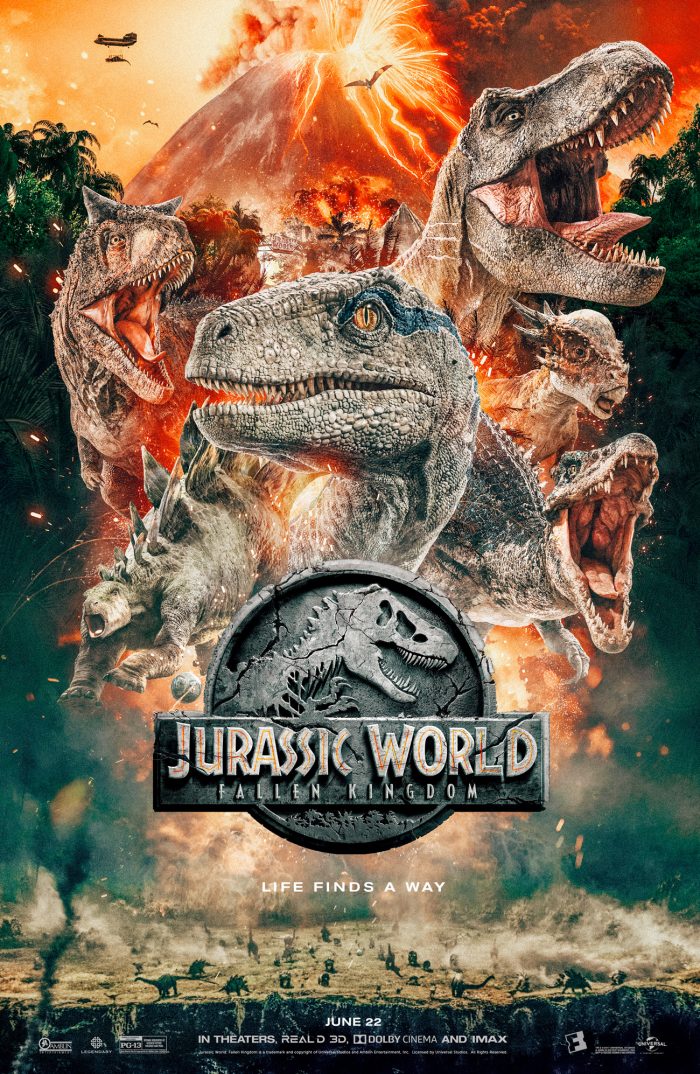 While Chris Pratt and Bryce Dallas Howard might be the top-billed stars of the Jurassic World franchise, we know everyone is flocking to theaters for these movies because of the dinosaurs. That's why they're the only characters featured on this poster in traditional floating heads fashion. This poster makes it seem like the movie takes place in a world where dinosaurs have officially taken over as the dominant species, and now they're starring in their own action franchises.
This could be a tongue-in-cheek parody of traditional movie posters. However, the posters for the Jurassic World movies have consistently left something to be desired (except for one recent addition), and this doesn't seem like their style. But that's actually because the poster was designed by a fan artist named Nima Nakhshab. That's cool that an artist was given an opportunity like this, but the poster is still goofy as hell.
Anyway, if you want this poster, you can get it for free when you purchase advance tickets from Fandango over here. Otherwise, check with your local theaters for tickets.
J.A. Bayona (The Impossible) directs Jurassic World: Fallen Kingdom with a script from Colin Trevorrow and Derek Connolly. The film also stars James Cromwell, Ted Levine, Justice Smith, Geraldine Chaplin, Daniella Pineda, Toby Jones, Rafe Spall, Isabella Sermon, BD Wong, and Jeff Goldblum.
It's been four years since theme park and luxury resort Jurassic World was destroyed by dinosaurs out of containment.  Isla Nublar now sits abandoned by humans while the surviving dinosaurs fend for themselves in the jungles.
When the island's dormant volcano begins roaring to life, Owen (Chris Pratt) and Claire (Bryce Dallas Howard) mount a campaign to rescue the remaining dinosaurs from this extinction-level event.  Owen is driven to find Blue, his lead raptor who's still missing in the wild, and Claire has grown a respect for these creatures she now makes her mission.  Arriving on the unstable island as lava begins raining down, their expedition uncovers a conspiracy that could return our entire planet to a perilous order not seen since prehistoric times.
Jurassic World: Fallen Kingdom takes us back to the park on June 22, 2018.