'Teenage Mutant Ninja Turtles' Finally Get The Movie Action Figures You Always Wanted [Updated]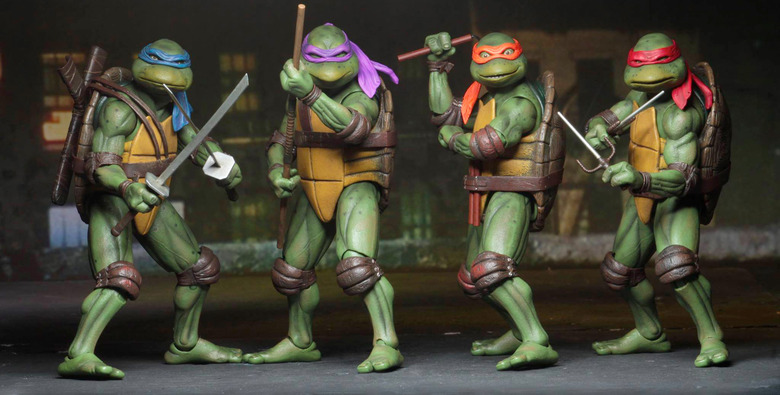 UPDATE: If you missed out on these figures from San Diego Comic-Con, you now have another opportunity to get them. Get all the details on how you can pre-order them below.
Teenage Mutant Ninja Turtles were all the rage when I was a kid. Not only was there the live-action film adaptation from 1990 that I could rewatch on VHS every day, but there was an animated series that I could watch when there were still cartoons playing all over the place every Saturday morning. And while there were plenty of Teenage Mutant Ninja Turtles action figures that I collected over the years, I was always disappointed that none of them looked like how the turtles appeared in the movies. If you felt the same way, the good news is we don't have to feel that disappointment anymore.
NECA has announced another one of their San Diego Comic-Con exclusives, and it's a four-pack of the Teenage Mutant Ninja Turtles, sculpted and styled exactly how they appeared in the 1990s live-action movie. They even come inside of a package that looks like the original VHS slip case for the video tape. These might be the best Teenage Mutant Ninja Turtles movie action figures ever made.
Teenage Mutant Ninja Turtles Movie Action Figures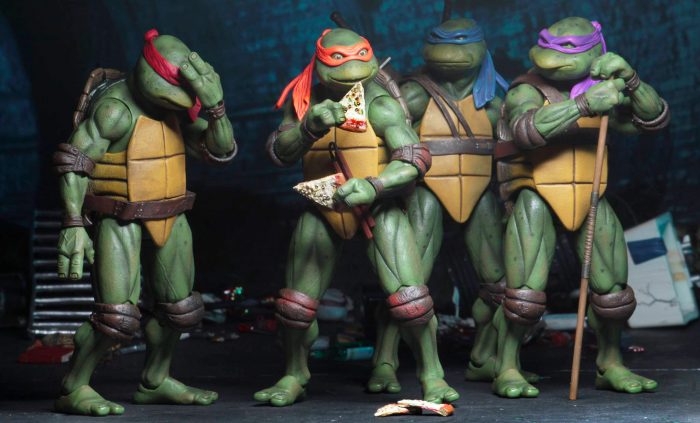 Leonardo, Donatello, Raphael and Michaelangelo each come with their signature weapons, interchangeable hands, their own slice of pizza, and a can of the ooze that made them the heroes in a half shell they are today. They also come with a second bandana sculpt that will make it look like they're standing in the wind for a cool hero shot.
The box set of all four figures and accompanying accessories will be a San Diego Comic-Con exclusive this summer, limited to 5,000 sets, each costing $125. But wait – there's more! For those of you who want to display your figures in the coolest way possible, there's also a set of these figures that comes with a diorama backdrop that measures over 2 feet wide, over 18 inches tall. Check it out:
The figure set with the diorama, inspired by the movie, has its own limited edition number of 2,000 sets, and that will cost a little more with a price tag of $250. That's quite the increase, but this is one of the cooler diorama sets I've seen for action figures, so that's not entirely unreasonable.
If you're starting to feel depressed that you won't be able to get your hands on these figures because you're not going to Comic-Con, we have good news. NECA will be having an online pre-order that you can participate in before the convention even begins.
On June 6, June 7 and June 8, through the NECA website, pre-orders for limited quantities will open at 1pm ET/10am PT each day and continue for as long as supplies last. Once that quantity is sold out, that day's sale is over. Otherwise you'll have to wait in line to get one at the NECA booth.
For those who might be interested, NECA came out with a pricier 1/4 scale line of Teenage Mutant Ninja Turtles movie action figures that you can still find online, but those cost $120 each. So this new set might be the best option for you frugal collectors out there.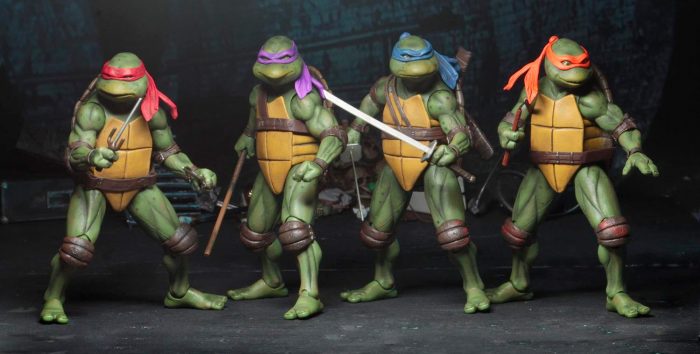 UPDATE: If you missed out on the box set of these Teenage Mutant Ninja Turtles action figures from NECA, you can pick up each of the heroes in a half-shell individually. Each of the turtles will be released in February as GameStop exclusives. They'll cost you $22.99 each and are available for pre-order right now.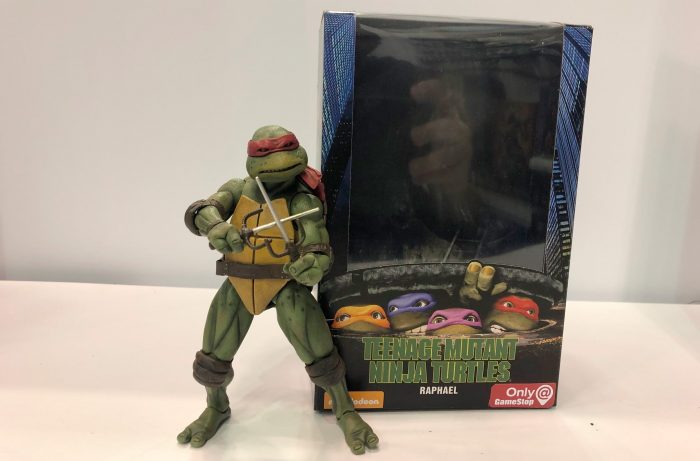 As you can see, they won't come in the packaging that looks like the original VHS slipcase, but the art on the window box does look somewhat like the imagery on. Each turtle will come with the appropriate weapon accessories, but the canister of ooze and pizza box are exclusive to the sold out Comic-Con box set.