Listen: 'Hearts Beat Loud' Releases The Catchy Title Track From The Charming Indie Gem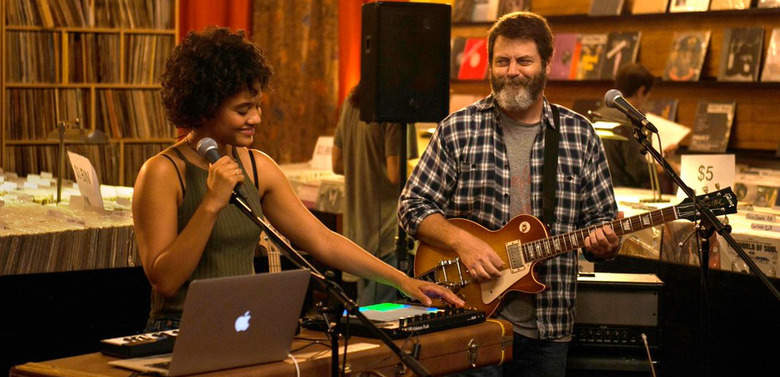 At the 2018 Sundance Film Festival earlier this year, one of the breakout films was the charming father daughter dramedy Hearts Beat Loud. The film sees Nick Offerman as Frank, a widower preparing to close down his record shop and send his daughter Sam (Kiersey Clemons) off to med school across the country. In one final attempt to spark a bit more of a connection with his daughter, Frank convinces her to partake in a jam session. Their collaboration results in some outstanding original tunes that get them a surprising amount of attention online. Now you can partake in the buzz by listening to the title track from the film.
Listen to the Hearts Beat Loud Soundtrack Single
This is the first song Nick Offerman and Kiersey Clemons create together in the movie. It becomes a surprising success when it ends up on an indie playlist on Spotify, and Offerman becomes energized to turn them into a musical sensation called "We're Not a Band," inspired by his daughter's reluctance to participate. You can watch the trailer over here to find out more about the movie.
The title song plays several times throughout Hearts Beat Loud, though not quite as excessively as That Thing You Do! from the movie of the same name. Thankfully, there are a few other original songs written by musician Keegan DeWitt, which are also performed by Nick Offerman and Kiersey Clemons in the movie, the latter proving that someone needs to cast her in a movie musical as soon as possible.
Here are the rest of the tracks on the soundtrack, including the score, also composed by DeWitt:
1. Hearts Beat Loud – Keegan DeWitt & Kiersey Clemons (3:18)
2. Blink (One Million Miles) – Keegan DeWitt & Kiersey Clemons (4:07)
3. Everything Must Go – Keegan DeWitt, Nick Offerman & Kiersey Clemons (3:09)
4. Red Hook (2:07)
5. We're Not a Band (2:14)
6. Shut Your Eyes – Keegan DeWitt & Nick Offerman (2:36)
7. Hearts Beat Loud (Ballad) – Keegan DeWitt & Kiersey Clemons (4:13)
8. Conundrums (1:46)
9. Your Best American Girl – Mitski (3:33)
10. The Past (2:05)
11. Help Wanted (2:11)
12. What If... (2:23)
13. Everything Must Go (Frank Collage) (3:34)
Aside from the incredible tunes, Hearts Beat Loud is also a touching, charming indie that is worth seeing in between all the blockbuster noise this summer. Written and directed by Brett Haley, it's a great movie for fathers and daughters to see, but it's the kind of story anyone can enjoy and that soundtrack will have you tapping your toes the whole way through.
In the hip Brooklyn neighborhood of Red Hook, single dad and record store owner Frank (Nick Offerman) is preparing to send his hard-working daughter Sam (Kiersey Clemons) off to college, while being forced to close his vintage shop. Hoping to stay connected through their shared musical passions, Frank urges Sam to turn their weekly "jam sesh" into a father-daughter live act. After their first song becomes an Internet breakout, the two embark on a journey of love, growing up and musical discovery.
Hearts Beat Loud starts hitting theaters on June 8, 2018 and the soundtrack will be available the same day.