Theme Park Bits: Ewok Sighting At Disney, Charge Your Lightsaber Wirelessly, 'Moana' Show Begins In Hong Kong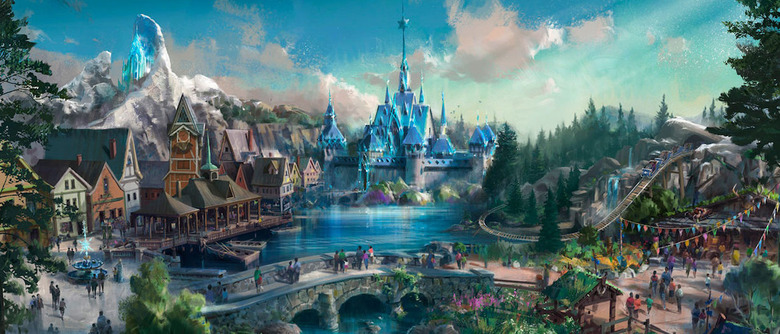 In this edition of Theme Park Bits:
Take a peek at what's happening in the Incredible Tomorrowland Expo at the Magic Kingdom.
Wireless charging stations for lightsabers might be a thing when Star Wars: Galaxy's Edge opens.
See an Ewok walk around the Ewok Village like he owns the place at Disney's Hollywood Studios.
Cast members at Disneyland Resort have won a victory in their ongoing wage negotiations.
Get an update on Hong Kong Disneyland's new Moana show and its future revamped castle.
And more!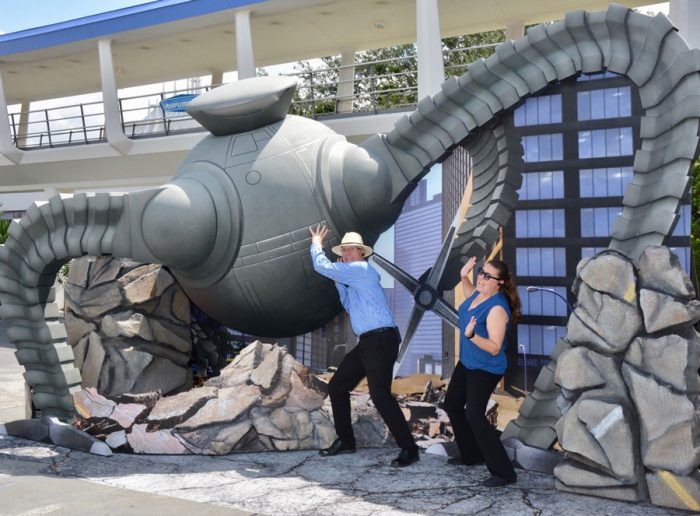 At the Magic Kingdom, the Incredible Tomorrowland Expo is in full swing, and in addition to seeing Mr. and Mrs. Incredible, Frozone, and Edna Mode, guests can enjoy some neat photo ops with special displays around Tomorrowland. This is your chance to get your picture taken with an octopus-armed Omnidroid.
Meanwhile, the cover art and track listing for composer Michael Giacchino's Incredibles 2 soundtrack has been revealed.
— Michael Giacchino (@m_giacchino) May 30, 2018
We now know the location of Walt Disney World's upcoming Star Wars hotel and how it will be seamlessly connected to Star Wars: Galaxy's Edge. There's a new rumor that Disney World and Disneyland will also be installing wireless "Magic Power" devices under trash cans at Galaxy's Edge, allowing guests within range to charge their lightsabers and even maybe smartphones.
The Ewok Village outside Star Tours: The Adventures Continue at Disney's Hollywood Studios is usually a ghost town in terms of its furry indigenous population, however, an Ewok did pop up as one of the exclusive character greetings at Star Wars: Galactic Nights.
In a move that seems like something out of the Logan Paul book of stunts, a 22-year-old man was arrested this week for running around claiming there was an "active shooter" at Disney's Contemporary Resort and then filming people's reactions for his YouTube channel.
The design firm behind The Venetian hotel and casino in Las Vegas and Disney's Grand Floridian Resort will reportedly take the lead in designing a new resort on the old abandoned River Country site at Walt Disney World.
We've got gondolas! #PixarPier🎡https://t.co/8KfcMvtPEF pic.twitter.com/dOaGjVa9br

— MouseInfo | Disney News and Info (@MouseInfo) May 28, 2018
Character gondolas are now visible on the Pixar Pal-A-Round at Disney California Adventure.
In other Disneyland Resort news, "Master Services" cast members will receive a four-dollar increase in their minimum wage, bringing it up to $15 per hour by 2020. This comes about as the result of intense negotiations with labor unions. Disney has called it "one of the most aggressive wage increases in its history," though as Inside the Magic notes, the current living wage in Orange County for single adults is estimated to be $15.31 per hour.
The first new entertainment offering of Hong Kong Disneyland's multi-year expansion – "Moana: A Homecoming Celebration" – is now open for guests! https://t.co/hDd8tBW8Xv pic.twitter.com/EYpa3q1B78

— Disney Parks (@DisneyParks) May 25, 2018
Disneyland has Sleeping Beauty Castle and the Magic Kingdom has Cinderella's Castle, but Hong Kong Disneyland's new castle will be an architectural blend inspired by all the different Disney princesses. The park is in the midst of a multi-year expansion that will bring Marvel and Frozen lands to it, as well. It just debuted a new Moana show and has also released some new concept art of both the castle and its upcoming Ant-Man and the Wasp ride.