Win A Free 'Annihilation' 4K Blu-Ray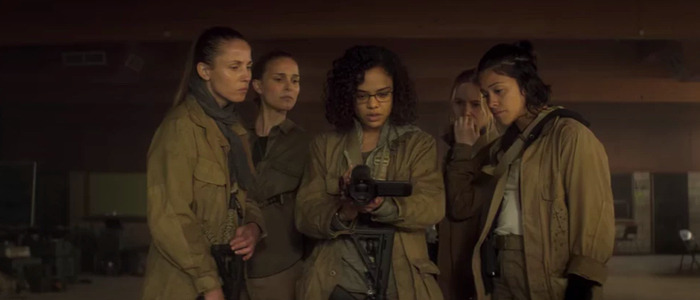 We're giving away three free Annihilation 4K Blu-rays, and you won't have to travel to Area X to win. Details on your chance to win our Annihilation contest are below.
Alex Garland's Annihilation, one of the best films of the year, hits Blu-ray this week. In honor of the Blu-ray release, we're giving away 3 free Annihilation 4K Blu-rays. This 4K Blu-ray is a Best Buy exclusive, but you can snag a free copy from us, if you're lucky. All you need to do to enter is head on down to the comment section and tell us your favorite Natalie Portman performance. That's it! U.S. residents only, please (sorry). Winners will be chosen at random.
In Annihilation, "biologist and former soldier Lena (Natalie Portman) is shocked when her missing husband (Oscar Isaac) comes home near death from a top-secret mission into The Shimmer, a mysterious quarantine zone no one has ever returned from. Now, Lena and her elite team must enter a beautiful, deadly world of mutated landscapes and creatures, to discover how to stop the growing phenomenon that threatens all life on Earth. The film also stars Jennifer Jason Leigh, Gina Rodriguez, Tessa Thompson, and Tuva Novotny."
Annihilation was a polarizing film. Some didn't care for Garland's strange, trippy adaptation, while others (like me, for instance) hailed it as a masterpiece. As I said in my review:
"With Annihilation, Ex Machina director Alex Garland has crafted a weird, challenging, and disturbing sci-fi horror film that will repel some and amaze others. This is the type of strange, hypnotic work that film fans obsess over. Don't be surprised if people are studying and talking about this film in years to come."
TheAnnihilation 4K Blu-ray features are listed below.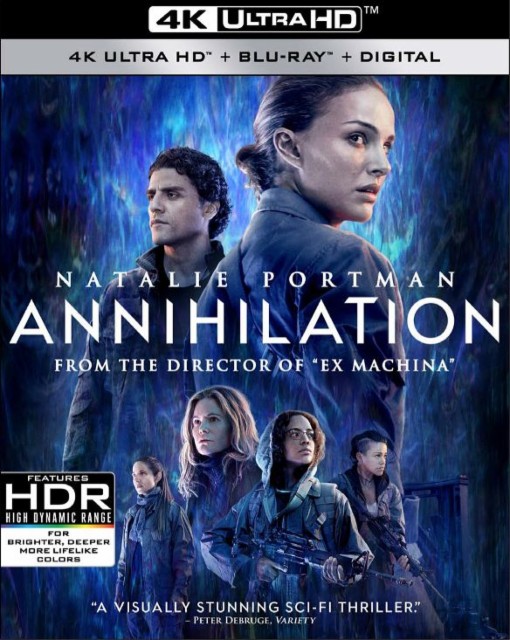 The ANNIHILATION Blu-ray is presented in 1080p high definition with English Dolby Atmos, French 5.1 Dolby Audio™, Spanish 5.1 Dolby Audio, and English Audio Description and English, English SDH, French, and Spanish subtitles.  The DVD in the Combo Pack is presented in widescreen enhanced for 16:9 televisions with English 5.1 Dolby Audio, French 5.1 Dolby Audio, Spanish 5.1 Dolby Audio and English Audio Description and English, French, and Spanish subtitles.   The Combo Pack includes access to a Digital copy of the film as well as the following:
Blu-ray
Feature film in high definition
Bonus Content:
o    Part 1 – SOUTHERN REACH
Refractions - See how director Alex Garland created the tone, textures and color palettes for the various film environments on set.
For Those That Follow - Listen to the cast's perspective on their roles and learn why they found the story so intriguing.
o    Part 2 – AREA X
Shimmer - See how filmmakers transformed real set locations to create the world of Annihilation.
Vanished into Havoc - Check out all the action as cast and crew walk you through the mind-blowing stunts and special effects.
o    Part 3 – TO THE LIGHTHOUSE
Unfathomable Mind - Learn why the visual effects are integral to achieving director Alex Garland's overall vision for Annihilation.
The Last Phase - Listen to the cast and crew share their fondest memories from filming Annihilation.
You can watch an exclusive Annihilation behind-the-scenes video here.