New 'Ocean's 8' Trailer Introduces You To The Cast Of Characters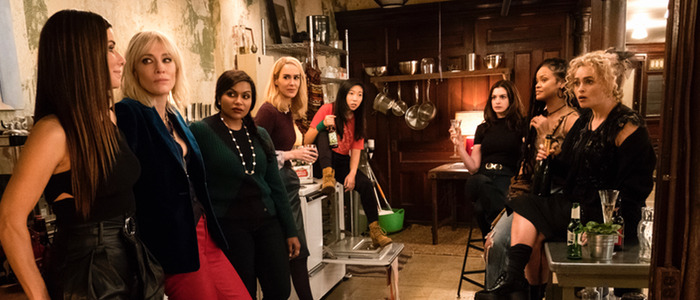 Ocean's 8 looks like a lot of fun, thanks primarily to the stellar cast director Gary Ross has lined-up to lead the film. With that in mind, a new Ocean's 8 trailer has just arrived, and it runs through the cast of characters one by one. Watch it below.
Ocean's 8 Trailer
This is a very long trailer, but it sure is a lot of fun – that one scene with Anne Hathaway mocking her assistant got a big laugh out of me. The Ocean's movies – all of them, be it the original Rat Pack film from 1960, or the breezy, funny Steven Soderbergh trilogy – have never really been about plot. They're about presence. I don't think anyone really cares what's going on in these films – they just like seeing Frank Sinatra and Dean Martin, or George Clooney and Brad Pitt, having fun on screen.
That same appeal has been carried over to Garry Ross' Ocean's 8. I can't say I'm excited about the story of this film, but I am very excited to watch Sandra Bullock, Cate Blanchett, Anne Hathaway, Mindy Kaling, Sarah Paulson, Awkwafina, Rihanna, and Helena Bonham Carter act up a storm, and look great doing it. And that's pretty much what this new trailer focused on: showing off how amazing this cast is.
That amazing cast is one of the main elements that got Ocean's 8 greenlit. I recently spoke with director Gary Ross (look for the full interview closer to the release of the film), and he told me that once he had this cast in place, the studio was more than happy to make the film happen. It's just one hell of an impressive lineup – who could possibly turn down a film featuring Cate Blanchett and Rihanna? Anyone who says they're not at least slightly interested in seeing a film like that is a damn liar.
Ocean's 8, which also features Richard Armitage, James Corden and a whole slew of cameos, many better left a secret, hits theaters on June 8, 2018.
Five years, eight months, 12 days and counting — that's how long Debbie Ocean has been devising the biggest heist of her life. She knows what it's going to take — a team of the best people in the field, starting with her partner-in-crime Lou Miller. Together, they recruit a crew of specialists, in

cluding jeweler Amita, street con Constance, suburban mom Tammy, hacker Nine Ball, and fashion designer Rose. Their target — a necklace that's worth more than $150 million.