'Upgrade' Red Band Trailer: Logan Marshall-Green Is A Killing Machine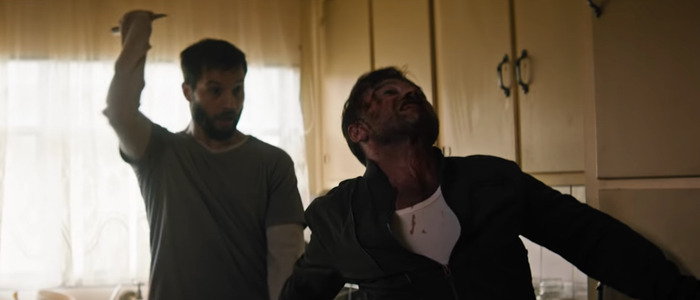 Logan Marshall-Green is a killing machine, literally, in a new Upgrade red band trailer. The new film from Leigh Whannell has the actor out for vengeance, with a little bionic assistance. Watch the new Upgrade red band trailer (and a green band trailer, too) below.
Upgrade Red Band Trailer
Mark Wahlberg has been trying to get his Six Billion Dollar Man movie made for years now, but maybe he should just call it quits? Based on this new Upgrade red band trailer, it looks as if Leigh Whannell has the market cornered on half-man/half-machine movies. In Upgrade, Logan Marshall-Green plays Grey Trace, a man left paralyzed after a brutal mugging – a mugging that also results in the murder of his wife. After the mugging, Grey is "approached by a billionaire inventor with an experimental cure that will "upgrade" his body. The cure – an Artificial Intelligence implant called STEM – gives Grey physical abilities beyond anything experienced and the ability to relentlessly claim vengeance against those who murdered his wife and left him for dead."
Upgrade Green Band Trailer
In addition to the red band trailer, there's also a new Upgrade green band trailer. It's mostly the same trailer, but with a lot less head explosions. Both trailers do a great job of selling the film and I can't wait to see it. Reviewing Upgrade for /Film at SXSW, Matt Donato had nothing but praise for Whannell's film. In his review, Matt wrote:
Leigh Whannell's latest film Upgrade is one of the most strikingly invigorated sci-fi watches I've been awestruck by in quite some time. I'm talking *hard* sci-fi, with callbacks to anything from eXistenZ to The Matrix to Minority Report. Whannell customizes an "efficient" future not so far from our own, where self-driving Loop Dash vehicles chauffeur around bioengineered super-beings and pizzas aren't ordered, they're printed. It's the kind of SmartHouse, techno-takeover world that Apple users dream of, blackened and revenge-ified by Whannell's oddly apt Her meets Weekend At Bernie's scramble – with way more splattered blood and guts.
Upgrade, starring Logan Marshall-Green, Betty Gabriel, Harrison Gilbertson and Benedict Hardie, opens on June 1, 2018.
A brutal mugging leaves Grey Trace paralyzed in the hospital and his beloved wife dead. A billionaire inventor soon offers Trace a cure — an artificial intelligence implant called STEM that will enhance his body. Now able to walk, Grey finds that he also has superhuman strength and agility — skills he uses to seek revenge against the thugs who destroyed his life.