'Solo: A Star Wars Story' Featurette: Meet The Crew Of Scoundrels Ready For A Galactic Heist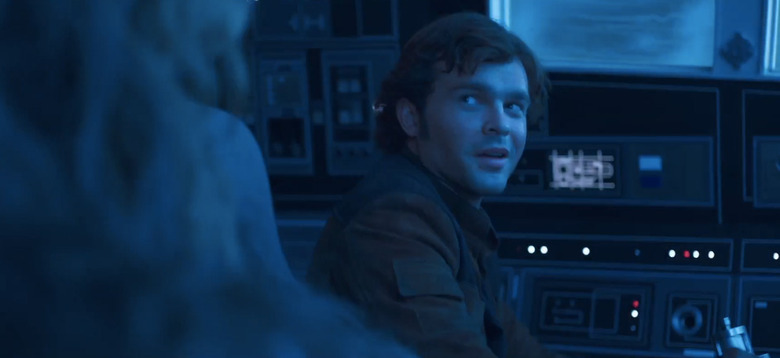 Tonight brings Solo: A Star Wars Story to a bunch of theaters around the country as sneak preview screenings kick off the Memorial Day weekend. If you don't have your tickets for Solo already, you might find it hard to get into a screening. So for those of you who maybe have to wait a day or two (or longer) before you see the movie, a new Solo featurette has arrived online with some new footage to hold you over.
Watch the New Solo Featurette
This featurette breaks down the roster of main characters for those looking for some insight into what they can expect from the origin story of one of the best smugglers in the galaxy. We're already familiar with Han Solo, this time played by Alden Ehrenreich, and his co-pilot Chewbacca. But in this movie, we finally get to see how and why they become best buddies and partners in smuggling. It can be a little excessive at times, but seeing the early days of this partnership is still charming.
Then there are some new players like Emilia Clarke as Qi'ra, a girl who Han has a history with that we find out all about in this movie. There's also Tobias Beckett (Woody Harrelson), who serves as Han's mentor, a guy who is out to get jobs done and make money. We even get to see more of his plan to steal some goods from the Conveyex cargo containers. You can see where Han gets his attitude that fans loved so much in the original trilogy.
Finally, there's Donald Glover as Lando Calrissian. While Han and Chewie's relationship is one that blossoms into a beautiful friendship, the relationship between Han and Lando is a little more complex. Each of them have trouble trusting each other, and there's plenty of ribbing that goes on between them as Lando and Han each try to be more cocky and charming than the other. It's a competition that is thoroughly entertaining to watch.
Board the Millennium Falcon and journey to a galaxy far, far away in "Solo: A Star Wars Story," an all-new adventure with the most beloved scoundrel in the galaxy. Through a series of daring escapades deep within a dark and dangerous criminal underworld, Han Solo befriends his mighty future copilot Chewbacca and meets the notorious gambler Lando Calrissian, in a journey that will set the course of one of the Star Wars saga's most unlikely heroes.
Solo: A Star Wars Story hits theaters on May 25, 2018.