Vin Diesel's 'Bloodshot' Adds 'Baby Driver's Eiza Gonzalez, 'Outlander's Sam Heughan, And Michael Sheen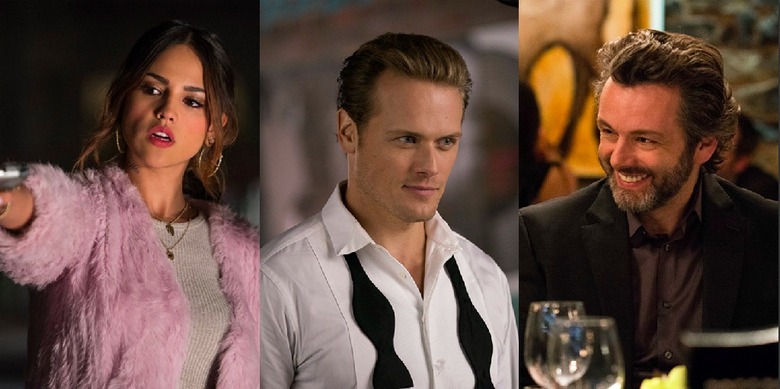 Bloodshot is hitting the mark when it comes to its supporting cast. Baby Driver breakout Eiza Gonzalez, Outlander's Sam Heughan, and Michael Sheen have all joined the adaptation of the Valiant Comics series.
They will join star Vin Diesel in the sci-fi action flick following a former soldier unwittingly given the powers of regeneration, technomancy, and meta-morphing.
Gonzalez, Heughan, and Sheen are in talks to join the Bloodshot cast, Variety reports. They will join Diesel, who was cast in the superhero movie in March as the titular mortally wounded soldier who is resurrected with cutting-edge nanotechnology. Bloodshot is tasked with rounding up superpowered outcasts known as "harbingers," but soon rebels against his corporate masters.
Gonzalez, Heughan, and Sheen's roles haven't been specified, though I expect Gonzalez and Heughan could play some of the mysterious "harbingers" who potentially become allied with Bloodshot. And with Sheen's history of playing sci-fi villains, I would bet that he plays one of Bloodshot's corporate overlords at Project Rising Spirit.
Here is the synopsis for Bloodshot per ComicVine:
Bloodshot is a former soldier with powers of regeneration, technomancy and meta-morphing made possible through nanites injected into his blood. After escaping from his masters at Project Rising Spirit, Bloodshot seeks to discover his true identity and other purpose besides killing.
The film will be directed by Dave Wilson, Deadpool director Tim Miller's partner at Blur Studio, with a script by Oscar-nominated Arrival screenwriter Eric Heisserer. Deadline has described the film as being "in the tone of the classic 1980s tentpoles like Robocop, Terminator and Total Recall." All films that have failed to be reinvented for modern audiences, but hey, why not aim for the best?
Sony is eyeing the sci-fi series as its next cinematic franchise, with plans already in place to expand the film into a five-film shared universe.
With Spider-Man on loan to the Marvel Cinematic Universe, and the future of a Venom franchise up in the air, it's no surprise that Sony is on the lookout for its own cinematic universe. They may be putting the cart before the horse à la the infamous Dark Universe debacle by planning five movies ahead, but the lesser-known Valiant Comics could provide them with rich source material. Valiant Comics has been hoping to break into Hollywood for a while now, and Bloodshot may be their solution.
Sony hopes to start shooting Bloodshot in July.