'The Sisters Brothers' Trailer: Joaquin Phoenix, John C. Reilly, Jake Gyllenhaal, And Riz Ahmed Go Out West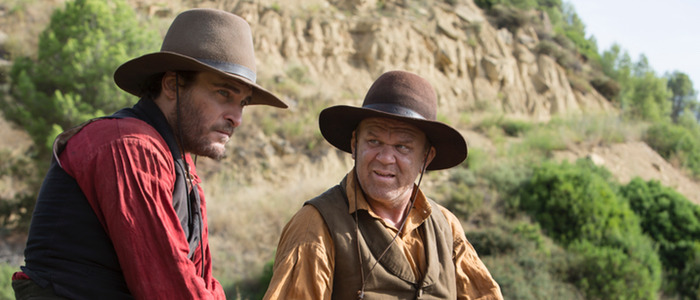 A comedy-Western starring Joaquin Phoenix, John C. Reilly, Jake Gyllenhaal, and Riz Ahmed? Sign me the hell up. The Sisters Brothers is an upcoming film that features that fine cast under the direction of Jacques Audiard, and it looks incredible. Watch The Sisters Brothers trailer below.
The Sisters Brothers Trailer
The Sisters Brothers was already at the top of my must-see-list based on its impressive cast, and this trailer has just sealed the deal. John C. Reilly and Joaquin Phoenix star as Eli and Charlie Sisters, a pair of hitmen trying to track down a prospector, played by Jake Gyllenhaal. Riz Ahmed is also on hand, as a chemist. That is one hell of a cast, folks. Reilly is one of those actors who is amazing in everything, ditto Ahmed. Phoenix is probably the best actor working right now, and I love that Jake Gyllenhaal is leaning into goofy character-actor work more and more – the voice he's using here is almost as memorable as the bizarre voice he used for Okja.
Jacques Audiard, who directed A Prophet, Rust and Bone and Dheepan, helms the film, and it looks like he and cinematographer Benoît Debie have conjured up a rich visual style for this film – that shot of the Reilly and Phoenix walking away from a burning building is stunning. The Sisters Brothers is adapted from the acclaimed novel by Patrick deWitt.
During Phoenix's now-legendary interview with Will Ferrell, he spoke briefly about working on the film – specifically, he reminisced about riding horses:
PHOENIX: There was another one, the stunt horse, that I couldn't even look at because she was just so ferocious, her muscles constantly flexing.
FERRELL: Twitching, ready to go, full gallop.
PHOENIX: And I couldn't do that. I mean, I didn't like riding horses. I actually regretted having to ride. I'm a little clueless, because I don't think that I really thought about it that much until I was there and realized, "Oh, it's a Western and we're on horses a lot." I hadn't really considered that. I felt bad about riding them. I had the feeling that they were like, "I don't really want you on my back."
FERRELL: But they tell you that the horses love it.
PHOENIX: Yeah, but the horses tell you something different. I'm really bumming out this interview, man. [laughs] I'm sorry.
The Sisters Brothers will be out later this year.
Based on Patrick Dewitt's acclaimed novel of the same name, follows two brothers – Eli and Charlie Sisters – who are hired to kill a prospector who has stolen from their boss. The story, a genre-hybrid with comedic elements, takes place in Oregon in 1851. The film is Jacques Audiard's follow-up to his Palme D'Or Winning DHEEPAN, which premiered at the 2015 Cannes Film Festiva