Donald Glover Wants The Lando Movie To Be 'Frasier In Space'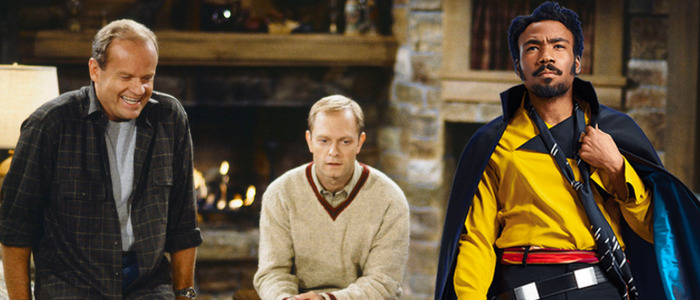 Everybody wants a Lando movie to happen, especially now that polymath Donald Glover is playing the character in Solo: A Star Wars Story. And it turns out, Donald Glover has an idea for a Lando movie himself, and it's not what you'd expect – if Glover has his way, the Lando standalone film will be like Frasier in space
The moment Donald Glover was cast as Lando Calrissian in Solo: A Star Wars Story, everyone had the same question: when will we get a Lando movie? Sure, everybody loves Han Solo, but when the first footage of Glover sporting some killer capes surfaced, the demand and excitement for a Lando movie only increased tenfold. There are no plans for a Lando movie yet, although Lucasfilm President Kathleen Kennedy has said such a movie might happen at some point.
So if a Lando movie happens, and if Donald Glover is involved, what would the movie be about? Glover has an idea, and it's kind of surprising. Speaking with Entertainment Weekly Radio, Glover said he'd like a Lando movie that ends up being akin to "Frasier in space." Yes, that's right – Frasier, the Cheers spin-off that introduced the world to tossed salad and scrambled eggs.
This doesn't mean Glover wants Lando to become a radio therapist who lives with his father and has a quippy relationship with his similarly-minded brother. Rather, Glover is talking about how refined, classy, and, well, snobby Lando can possibly be, which is somewhat similar to the character of Frasier Crane (sort of; kind of; just go with it). "It would be cool to see, like, Frasier in Space," Glover said. "Like, a high-end guy in space. All of these characters are very specific and they have very specific points of view, so it's always going to be fun to see them traveling around to a planet that is the opposite of what they're used to ... And all of that seems like it would be fun to write, for sure."
Glover also added:
"I would love to do it again. It's really fun. The movie, I feel like, is wide open. This part of the universe without the ... I feel like with the Skywalkers, it's hard, because it's almost like the Bible. There's a story that you have to tell, and the lineage of that family. I feel like out here its like, yeah, we're just like hustlers and gamblers and space pirates, essentially, so you can do a lot more and have a lot more fun."
Having seen Solo: A Star Wars Story, I can confirm that Glover is a lot of fun in the film. And I'd totally be up for a Lando movie – especially if it really does end up being Frasier in space.
Solo: A Star Wars Story opens on May 25, 2018.