'Double Dare' Reboot Brings In A YouTube Star To Host, But Marc Summers Is Coming Back Too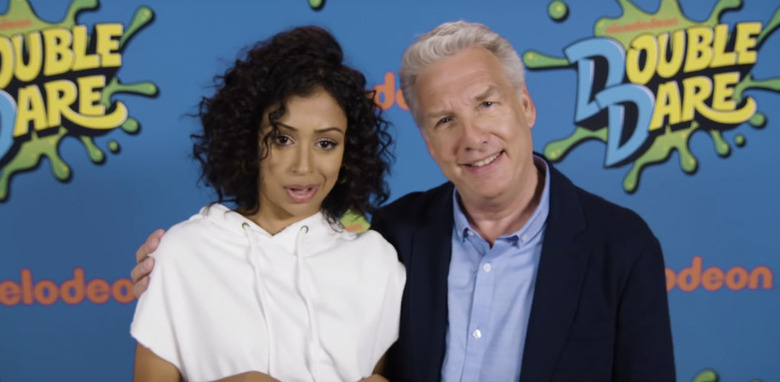 Last month, we found out Nickelodeon was bringing back their beloved game show Double Dare. The game show and several varying iterations that followed it focused on two teams competing to win prizes by answering trivia questions and partaking in super messy physical challenges. The new show will very much have the same format, but it will have a new host that Nickelodeon is bringing in from YouTube stardom.
Liza Koshy, best known for her YouTube channel with over 14 million subscribers, has been named as the Double Dare reboot host. If you're one of those fans who was hoping Marc Summers would return as host, don't worry. The former Double Dare host will return as a color commentator during the game show's physical challenges.
Double Dare Reboot Host Announced
Nickelodeon announced the Double Dare reboot host by way of the video above, featuring a special appearance by Marc Summers, dubbed the "Mayor of Double Dare."
For those who don't know Liza Koshy, she's become quite the popular personality through her hit YouTube channel. She's one of the co-hosts on MTV's reboot of Total Request Live, and she also has her own YouTube Premium comedy series called Liza On Demand in the works. With a two Streamy Awards, a Teen Choice Award and a Kids' Choice Award under her belt, she's exactly the kind of person to get today's generation of kids interested in this reboot.
Meanwhile, Marc Summers was the beloved host of the original run of Double Dare, not to mention Nickelodeon's What Would You Do? Summers has made a career out of hosting, even popping up as a guest host on other game shows, including Scrabble, Super Password, Talk About, Lingo, To Tell the Truth, Win, Lose or Draw, and Hollywood Squares.
The Double Dare reboot will start off with 40 new episodes. Some of the classic challenges from the original show be back, but there will be new ones too. Plus, the show will have some others blasts from the past yet to be revealed. The Double Dare reboot will premiere on Monday, June 25, at 8pm ET/5pm PT.
Plus if you're out and about this summer, you might catch some Double Dare action in-person.  You may be able to play the game in the form of on-the-ground versions at VidCon 2018 in Anaheim, California and all summer long at Nickelodeon Universe at Mall of America in Minneapolis, Minnesota.