'Papillon' Trailer: Charlie Hunman And Rami Malek Attempt The Greatest Prison Escape Of All Time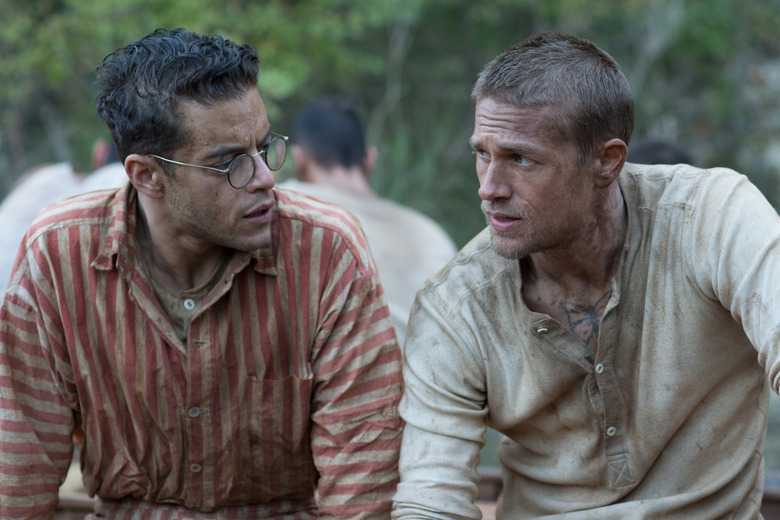 Charlie Hunman seems to be drawn to adventures of bearded European men traversing tropical climates in the early 20th century, but this time he's taking Rami Malek along for the ride. The duo star in the Papillon trailer, a remake of the 1973 film based off the 1969 autobiography by French convict Henri Charrière.
However, this pair is stepping into some big shoes. Hunman will be donning the iconic butterfly chest tattoo first worn by Steve McQueen, while Malek will be putting on Dustin Hoffman's round glasses.
Papillon Trailer
Hunman plays Henri Charrière — affectionally called "Papillon" for the butterfly tattoo on his chest — a French safecracker who gets wrongly convicted of murder and is given a life sentence at the infamously cruel penal colony Devil's Island. There he meets the mild-mannered counterfeiter Louis Dega (Malek), who agrees to fund his escape in exchange for protection. The two suffer terrible conditions, murderous prison mates, and sadistic prison guards who abuse and torture the inmates of the penal colony.
Directed by Michael Noer and written by Aaron Guzikoswski, the update of Papillon ups the grit, gore, and the stakes, as Hunman and Malek deliver their take on what has been dubbed"the greatest adventure story of all time." But fear not, fans of the original Papillon. Much of the original film's spirit seems to remain in the film, with the trailer borrowing some lines and scenes straight from the 1973 original.
Ultimately, Henrie Charrière's story — whose authenticity has been called into doubt over the years — is "all about human resilience," no matter how it's being told, Malek recently told Entertainment Weekly. "[It's all about] depending on someone in the most dire circumstance, and that's a story worth telling," he said.
Papillon also stars Roland Moller, Tommy Flanagan, Eve Hewson, Michael Socha, Ian Beattie, and Yorick van Wageningen. The Michael Noer film is produced by Joey McFarland, p.g.a., David Koplan, p.g.a., Ram Bergman and Roger Corbi.
Here is the official synopsis for Papillon:
Based on the international best-selling autobiographic books "Papillon" and "Banco", the film follows the epic story of Henri "Papillon" Charrière (Charlie Hunnam), a safecracker from the Parisian underworld who is framed for murder and condemned to life in the notorious penal colony on Devil's Island. Determined to regain his freedom, Papillon forms an unlikely alliance with a convicted counterfeiter Louis Dega (Rami Malek), who in exchange for protection, agrees to finance Papillon's escape.
Papillon opens in theaters on August 24, 2018.