'Shazam' Photo: Zachary Levi Gives Us The First Quasi-Official Look At His DC Superhero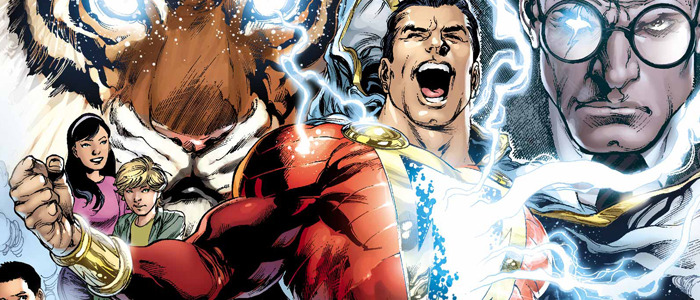 You may have seen some set photos floating around online of Shazam! star Zachary Levi (Chuck) decked out in full costume, but now Levi himself has taken to social media and shared a photo that may be our first kinda-sorta official look at the DC superhero.
Shazam Photo
Back in February, a fan secretly snapped a pic of Levi filming at a mall, and with the Christmas-themed setting and his bright red costume, it kind of looked like a scene featuring Turbo Man from Jingle All the Way. But Levi recently shared a photo on Instagram of himself standing in front of an authorized banner at a licensing show in Las Vegas, giving us an official look at the character the way Warner Bros. and DC want him to be viewed: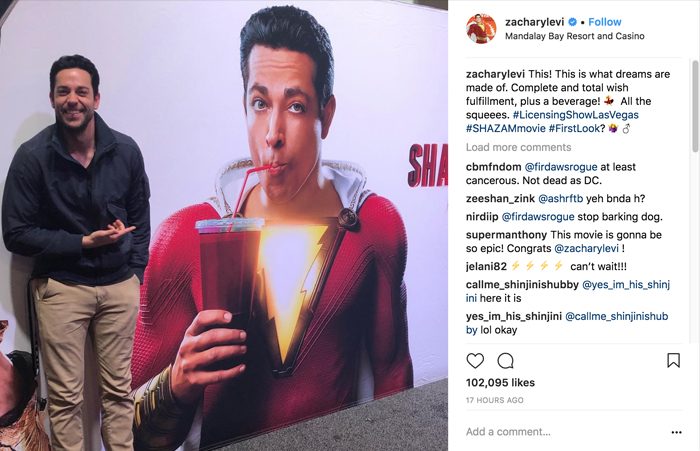 The lit-up lightning bolt is a cool touch, and that's an element that hasn't come across very well in random set photos because the effect is almost certainly enhanced in post-production. This costume is definitely appropriate for the character and accurate to the way he looks in the comics – I can't imagine die-hard Shazam! fans having any significant complaints about the aesthetics here. And the hero's bemused face implies that the production is really going all-in on the whole "kid in the body of a superhero" thing.
(If anyone's wondering why Shazam is sipping on an unnamed beverage in this picture, it's probably because WB purposefully left the cup blank as a way to entice potential advertising partners.)
Here's the film's official synopsis:
We all have a superhero inside us, it just takes a bit of magic to bring it out. In Billy Batson's (Angel) case, by shouting out one word—SHAZAM!—this streetwise 14-year-old foster kid can turn into the adult Super Hero Shazam (Levi), courtesy of an ancient wizard. Still a kid at heart—inside a ripped, godlike body—Shazam revels in this adult version of himself by doing what any teen would do with superpowers: have fun with them! Can he fly? Does he have X-ray vision? Can he shoot lightning out of his hands? Can he skip his social studies test? Shazam sets out to test the limits of his abilities with the joyful recklessness of a child. But he'll need to master these powers quickly in order to fight the deadly forces of evil controlled by Dr. Thaddeus Sivana.
Shazam! is directed by David F. Sandberg and co-stars Mark Strong, Dwayne Johnson, Jack Dylan Grazer, Grace Fulton, and Asher Angel. It's set to hit theaters on April 5, 2019.