'Hotel Artemis' Clip: Jodie Foster Explains The Rules Of Her Criminal Hospital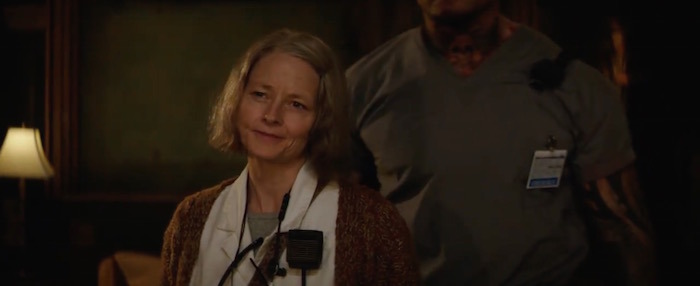 Whoa, a John Wick: Chapter 3 clip already? That was fast – they just announced much of the cast this morning. What's that? Oh, this isn't from John Wick: Chapter 3, it's a Hotel Artemis clip instead? Ah yes, it's that other movie about a secret society of criminals with a strict code of enforced rules. That one actually comes out in just a few weeks, so this all now makes much more sense.
Am I joking? I can't even tell anymore! It's probably best just to check out the new clip below.
Hotel Artemis Clip
The comparisons to the John Wick franchise are plentiful, though writer Priscilla Page taught me on Twitter that the idea for John Wick's Continental Hotel was not an entirely original notion, even for that movie:
for folks comparing HOTEL ARTEMIS to JOHN WICK, the Continental Hotel concept is not unique to JOHN WICK — it's an invention of author David Morrell https://t.co/WUmb22Lp6p

— priscilla page (@BBW_BFF) April 17, 2018
In any case, Jodie Foster looks coolly confident in this role – I much prefer her in a part like this instead of whatever the heck she was doing in Neill Blomkamp's Elysium. Sterling K. Brown and Brian Tyree Henry don't have much to do in this particular clip, but we get to see a bit of Kenneth Choi not complying with the "rules", and a little sneak peek at Dave Bautista's character, whose name is Everest (for reasons that should be pretty obvious).
Despite its familiar-sounding premise, I'm still interested in this movie for one big reason: Jeff Goldblum plays the big bad, a warlord who wants something that's currently being squirreled away on the hospital's grounds. (Check him out in the full trailer if you haven't seen that yet.) Sofia Boutella, Jenny Slate, Zachary Quinto, and Charlie Day co-star, and I'm really hoping they're all put to especially good use here.
This is the feature directorial debut of Drew Pearce, the writer behind movies like Iron Man 3, Mission: Impossible – Rogue Nation, and Sherlock Holmes 3. We're eager to see if he'll be able to elevate this concept beyond "John Wick knock off" and carve out something special and memorable in this gritty little niche.
Here's the film's official synopsis:
In HOTEL ARTEMIS, set in riot-torn, near-future Los Angeles, Jodie Foster plays The Nurse, who runs a secret, members-only emergency room for criminals. Surrounded by an all-star cast that includes Sterling K. Brown, Sofia Boutella, Jeff Goldblum, Brian Tyree Henry, Jenny Slate, Zachary Quinto, Charlie Day, and Dave Bautista, HOTEL ARTEMIS is a stylish, high-octane action-thriller written and directed by Drew Pearce.
Hotel Artemis arrives in theaters on June 8, 2018.