'Deadpool 2' Dethrones 'Avengers: Infinity War' At The Box Office, But Has It Broken Any Records?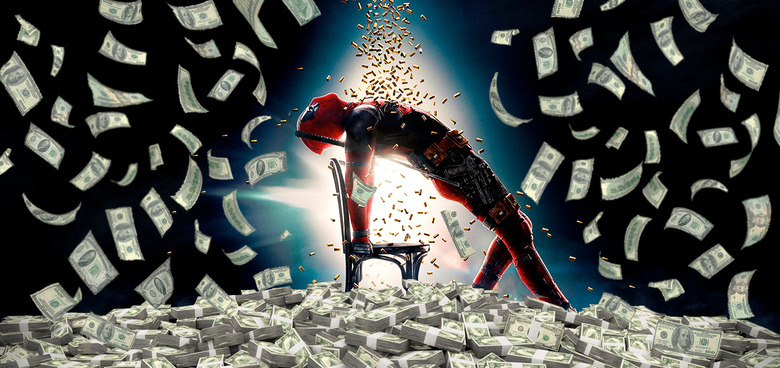 This past weekend finally brought Deadpool 2 to theaters. The sequel was one of the most anticipated movies of the summer, as the first R-rated comic book comedy stormed into theaters and broke box office records in February of 2016. So how did the follow-up fare at the box office after the first movie made such big waves?
Well, Deadpool 2 was easily able to dethrone Avengers: Infinity War from the top of the box office charts after three weeks of domination. However, when it comes to topping the box office records set for R-rated opening weekends, the movie fell short of the original Deadpool in the United States. But when it comes to the global box office, the news is much better.
According to The Hollywood Reporter, Deadpool 2 raked in $125 million at the domestic box office, which is just slightly under the first film's record-setting opening weekend haul of $132.4. But still, $125 million is enough to give Deadpool 2 the third highest opening of 2018 behind Avengers: Infinity War and Black Panther.
Perhaps the movie might have been able to break that record if it wasn't dealing with the competition that Avengers: Infinity War still brings on the big screen. After all, the first Deadpool debuted in February of 2016 when the competition was almost non-existent. But summer has a sea of movies for all audiences to see, and that might have been enough to take away that extra money it needed to break domestic records.
Meanwhile, at the global box office, 20th Century Fox has plenty to celebrate with the biggest international debut in the studio's history. Overseas, the sequel added $176 million, which is enough to pass the first Deadpool to become the biggest international launch in history for an R-rated film. That makes for an impressive $301 million global debut.
It'll be interesting to see how Deadpool 2 fares during the rest of its time at the box office. Surely there will be a big drop in the second weekend, especially with Solo: A Star Wars Story hitting theaters this week. But it's also Memorial Day weekend, so it might not hurt that much. The first Deadpool ended with $363 million domestically and another $420 million overseas for a global total of over $783 million. Will Deadpool 2 fare as well with all the summer competition out there? We'll have to wait and see.
Deadpool 2 is in theaters everywhere now, so check it out for yourself.