'Solo: A Star Wars Story' TV Spots Have Plenty Of Praise For The Smuggler's Origin Story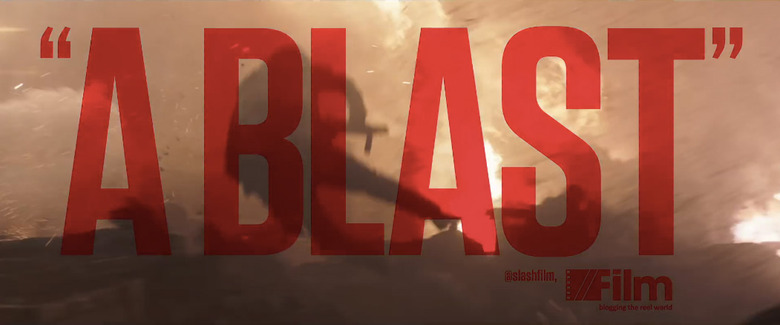 The time has come for Star Wars to take back the summer. The latest offering from a galaxy far, far away likely won't be able to top the record setting box office take raked in by Marvel's Avengers: Infinity War, but Solo: A Star Wars Story will still undoubtedly be one of the biggest movies of the summer. And if you're somehow still not convinced to catch Han Solo's origin story on the big screen, a new round of TV spots have plenty of praise for the movie hitting theaters this week.
Solo A Star Wars Story TV Spots
First up, pay close attention to this TV spot and you'll see that quote from our own Peter Sciretta where he calls the movie "a blast." Meanwhile, the rest of the big text calls it "fun" and "exciting" and all the other words used to hype big summer movies so you'll spend money on a ticket (or use your MoviePass to see it).
Next up: our old buddy Germain Lussier is most prominently featured in this TV spot, where he calls the movie "incredibly fun" with "huge action" and "big surprises." Indeed, there is one major surprise that this film delivers that Star Wars fans will be talking about for weeks to come.
Plus, if you keep your eyes peeled in that quick shot of the Millennium Falcon flying through a sea of logos from outlets giving the movie a positive review, you'll notice the /Film logo hiding in the upper left hand corner. That's because our own Chris Evangelista says, "Solo is a hell of a lot of fun." You can read more of his thoughts in our full review over here.
And finally, this TV spot says, "Solo delivers everything you look for in Star Wars." And while that's mostly true, the movie isn't also without some missteps, especially when it comes to the first act. But we'll talk more about that after the movie hits theaters later this week.
Board the Millennium Falcon and journey to a galaxy far, far away in "Solo: A Star Wars Story," an all-new adventure with the most beloved scoundrel in the galaxy. Through a series of daring escapades deep within a dark and dangerous criminal underworld, Han Solo befriends his mighty future copilot Chewbacca and meets the notorious gambler Lando Calrissian, in a journey that will set the course of one of the Star Wars saga's most unlikely heroes.
Solo: A Star Wars Story hits theaters on May 25, 2018.