Bryan Fuller Slams 'Bohemian Rhapsody' Trailer For Leaving Out Freddie Mercury's Sexuality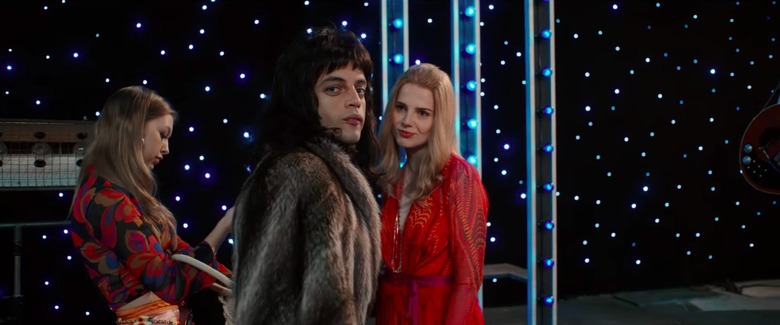 20th Century Fox debuted the flashy Bohemian Rhapsody trailer to much fanfare, but there were a few people that it didn't rock. Primarily, former American Gods showrunner and Twitter extraordinaire Bryan Fuller.
Fuller took to his preferred social media platform to express his disappointment that the Bohemian Rhapsody trailer completely glossed over Freddie Mercury's sexuality. The Queen frontman and the subject of the highly anticipated biopic (played by Rami Malek) was a closeted bisexual man who died from complications with AIDS. But the trailer and marketing for Bohemian Rhapsody seems to play fast and loose with the depictions of Freddie Mercury sexuality.
Fuller, best known for creating TV series like Hannibal, Pushing Daisies, and American Gods, accused 20th Century Fox of "heterosexual-washing" Mercury's story in both the trailer and the synopsis for Bohemian Rhapsody.
"Anyone else mildly annoyed that the 'Bohemian Rhapsody' trailer features gay/bi superstar Freddie Mercury flirting with and twirling with a woman but no indication of his love of men?" Fuller asked his 152,000 Twitter followers.
One eagle-eyed Twitter user pointed out a blink-and-you'll-miss-it shot in the trailer of Mercury alone in the recording studio with another man, but Fuller responded that the trailer didn't give equal weight to Mercury's relationships with men and women. His relationship with Mary Austin, Mercury's long-time partner, was instead given the more traditional "meet-cute," Fuller pointed out. "The marketing campaign emphasized [Mercury's] relationship with a woman to distract from his being a queer artist," Fuller said.
Fuller also took issue with 20th Century Fox's vague descriptor of the "life-threatening illness" that took Mercury's life. Mercury died of bronchial pneumonia in 1991 as a result of contracting AIDS five years earlier. But 20th Century Fox's hand-waving of these specifics concerned Fuller and the rest of the internet. Could the movie become a Queen hagiography as feared, and gloss over the unsavory and more challenging aspects of Mercury's life?
DEAR 20TH CENTURY FOX... Yes, it was a life-threatening illness, but more specifically it was AIDS. From having gay sex with men. Do better. #HETWASHING #BohemianRapsody pic.twitter.com/sz8QJU7cCA

— Bryan Fuller (@BryanFuller) May 15, 2018
In an interview with Upworthy, Fuller elaborated on his criticisms of the marketing for Bohemian Rhapsody. "It's important because of Hollywood's long history of erasing queer history, or at the very least minimizing it," Fuller said. He added:
"Even Mary Austin, who Freddie Mercury called the love of his life, somewhat famously corrected Mercury when he told her he was bisexual: 'No, Freddie, you're gay.' By emphasizing heteronormative images without a balance of same-sex images, the marketing folks are making a statement of what content they feel more comfortable putting forward about this film.
Judging from this trailer alone, it felt to me like queer erasure, regarding Freddie Mercury's bisexuality or his relationships with men [that] felt conspicuously absent, or rather significantly de-emphasized. The use of 'life-threatening illness' in the publicity material smacked so disturbingly of Reagan-era AIDS denial, my ass was triggered like Roy Rogers," he adds. "Representation matters. If a story I'm telling isn't necessarily a queer one, I want to make sure the audience understands there is a queer one telling it."
Bohemian Rhapsody has been wracked by behind-the-scenes troubles, losing its first star Sacha Baron Cohen — who left the project in 2016 over concerns that Queen members Brian May and Roger Taylor were micro-managing the production — then its director Bryan Singer over issues of professionalism.
But the show must go on, as they say, and Bohemian Rhapsody will finally hit theaters on November 2, 2018.