Cool Stuff: Gallery 1988 Debuts Cuyler Smith's Incredible New TV & Movie Trading Cards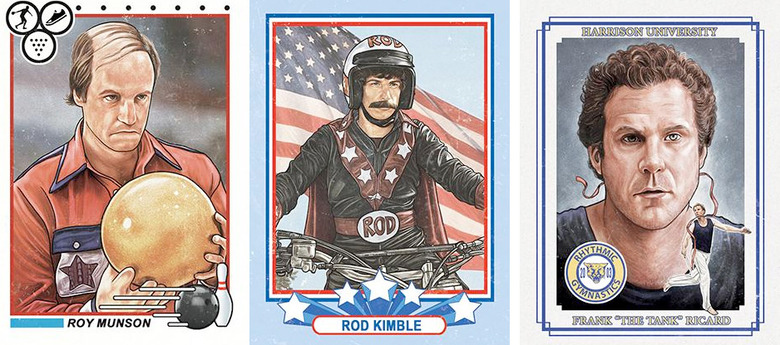 Gallery 1988 is back with another outstanding art show, and this one continues a splendid collection of trading cards featuring the outstanding illustrations of artist Cuyler Smith.Trading Cards 3 features a whole new batch of original trading cards taking characters from various sports movies and TV shows. Modeled after real vintage trading cards from decades past, these are meticulously detailed pieces that you can throw in a plastic sleeve like all your other trading cards. Or you can frame them on your wall where they deserve to be displayed proudly.
Gallery 1988's Cuyler Smith Trading Cards Artwork

As you can see, Cuyler Smith's trading card collection ranges from sports dramas like Remember the Titans and The Wrestler. But this round has a bunch of characters from comedies like Happy Gilmore, The Big Lebowski, The Mighty Ducks, Angels in the Outfield, Old School, Dodgeball: A True Underdog Story, Kingpin, Rookie of the Year, Nacho Libre, Hot Rod and more. Some TV shows also get the spotlight with characters from The Office and GLOW featured.
These are only the cards we felt like highlighting, but there are plenty more for you to see at Gallery 1988's official website. If you want to pick any of these up, you can get framed versions of the cards for $85, or you can buy individual cards without a frame for $15 each. There is also a bundle that includes four random cards from the Trading Cards 3 show and a Jerry Seinfeld card. The ultimate collector could have picked up every single new card from this show for $600, but it's already sold out.
If you missed out on the previous two shows featuring Cuyler Smith's Trading Cards, you can check eBay to see what's available for resale out there.