'Captain Marvel': Agent Coulson Will Be "New Guy" At S.H.I.E.L.D.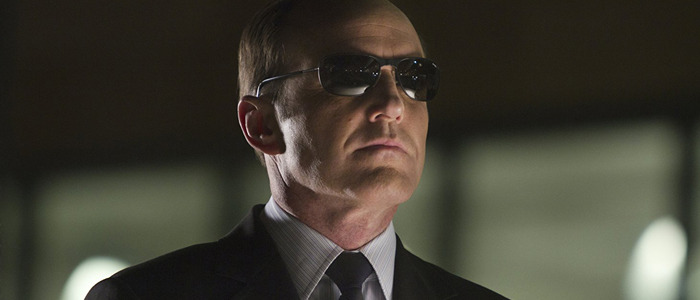 It's been six years since we've seen Agent Phil Coulson on screen in a Marvel Studios movie, but we'll soon get a chance to see a younger version of the character in the upcoming Captain Marvel, which is a prequel set in the 1990s. Now actor Clark Gregg is talking about where we'll find Coulson when the new movie hits next year. Read his full Captain Marvel Agent Coulson quote below.
Clark Gregg's Phil Coulson was a key player in pulling Earth's Mightiest Heroes together in the early days of the Marvel Cinematic Universe, and though he was killed by Loki in 2012's The Avengers, he was quickly resurrected for the TV series Agents of S.H.I.E.L.D. He's been a key part of that series ever since and will presumably continue through its sixth and possibly final season, which airs in 2019.
But we'll get to see a younger version of him soon in Captain Marvel, and Gregg told Entertainment Weekly that when we meet him again (for the first time, chronologically), he'll have just joined the S.H.I.E.L.D. agency:
"He's a bit of a new guy in S.H.I.E.L.D. He's a lot younger. That was the main thing. It's the earliest we will have seen him, so when he says, 'Mr. Stark, this isn't my first rodeo' in Iron Man, this is maybe the rodeo he's talking about."
It'd be pretty great if he taped a photo of Captain America to the inside of his locker, showing off more of his fanboy adoration for that character that he first revealed in The Avengers.
Marvel Studios has shown a fondness for using de-aging technology in their movies thus far (Captain America: Civil War, Guardians of the Galaxy Vol. 2, etc.), so it'll be interesting to see if they apply those same techniques to characters like Coulson and Nick Fury for this whole movie.
Brie Larson leads the way as the title character, and she'll be joined by Gregg, Samuel L. Jackson, Lee Pace, Djimon Hounsou, Ben Mendelsohn, Jude Law, Gemma Chan, Lashana Lynch, Algenis Perez Soto, Rune Temte, and McKenna Grace.
Marvel has had problems with handling death on screen in the past, but I'm thankful Coulson's resurrection was relegated to the TV side of things; if the Avengers found out he survived, it would retroactively rob that movie of a lot of its emotional impact. The character has been through some serious shit on Agents of S.H.I.E.L.D. (did you know he became a Ghost Rider at one point?), so it should be a nice breath of fresh air to see a young up-and-coming Coulson on screen when Captain Marvel arrives on March 6, 2019.