Watch The Teaser For Steve Martin And Martin Short's Netflix Comedy Special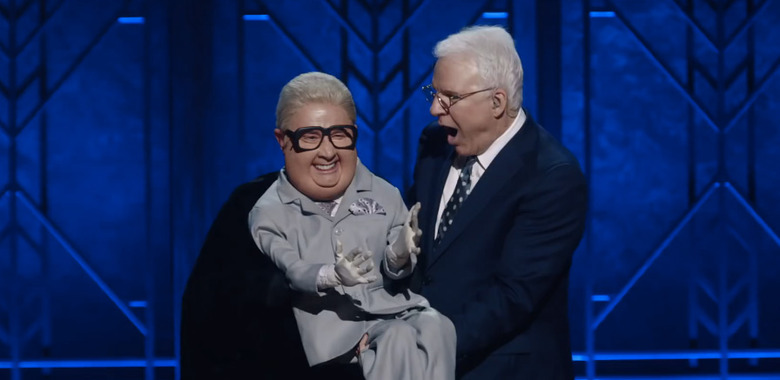 Back in February, we found out that one of the roughly 1,000 pieces of original programming coming from Netflix this year would be a new comedy special from the legendary Steve Martin and Martin Short. Now we have our first look at their wild antics on stage from a live performance taped on February 23 at their tour date in Greenville, South Carolina.
Watch Steve Martin and Martin Short Comedy Special Trailer
Steve Martin and Martin Short: An Evening You Will Forget For The Rest Of Your Life will feature an array of comedy offerings, but it's all based around the hilarious rapport that these longtime friends and partners in comedy have had for decades.
In one bit, Steve Martin plays the banjo, singing about all zero of the awards Martin Short has won. Another looks like it will have Martin acting like a ventriloquist dummy with Martin Short playing a tiny version of his celebrity interview character Jiminy Glick. Another moment has Short wearing some kind of bodysuit that can be drawn on with a marker, and apparently it worked well enough that he playfully threatened Steve Martin, "Top that, motherf***er." I love these two so much.
I think one of my favorite things about Steve Martin and Martin Short together is that even when they're doing scripted material, they make it looks so natural and effortless. When you have a comedy tour like this, there's obviously jokes and bits written for the evening. But making it seem fresh for every single stop on a tour can be a real challenge, and these guys do it masterfully.
On top of that, it's clear that there's plenty of room for improvisation as well. Even though there's a planned show, these two are seasoned improvisers, and their minds are working a mile a minute, always thinking of funny responses to what's happening around them. It makes me wish I would have caught this tour live in-person when they were performing nearby.
But for me and everyone else who missed the tour, we'll be able to see Steve Martin and Martin Short: An Evening You Will Forget For The Rest Of Your Life exclusively on Netflix starting next weekend on May 25, 2018, just in time for some Memorial Day relaxation.